Old news
2019 and 2020
2017 and 2018
2015 and 2016
2011 and 2012
2009 and 2010
2007 and 2008
2004 to 2006
2001 to 2003
Semi-regular news updates which would be of interest to the enthusiast have been provided on this site since 2001. This page contains the updates published between 2013 and 2014 inclusive. It should be read in conjunction with the route change history page.



December 2014




Epping Forest Community Transport
have been operating welfare-market Fiat Ducato Maxi/KFS Freedom HX61HYL in service on the 347. It has no destination display capability.


A second Optare Excel has been noted operating with EOS London, being JFZ8261. We understand that there are to be 3.

A new arrival noted at
Trustybus
is former Ensign (previously Stagecoach London) Dennis Dart SLF/Alexander ALX200 Y329FJN - it is easily recognisable as it is in a brown livery. Also joining the fleet is Dennis Dart SLF/Plaxton Pointer KP54BYY in all-over white. Withdrawn is Metrobus blue liveried R744BMY (PD31)
November 2014
Rural service 347 (Harlow to Hatfield Broad Oak) has a change of operator from 3rd November, and in the process moves from the largest operator in the country in
First
, who now cease to serve Harlow once again, to one of the smallest in
Epping Forest Community Transport.
The last First vehicle to depart Harlow was Optare Solo M920 EO02NFJ whilst the first day of the new era was represented by Ford Transit EK59UCO.
EOS London
have been using Dennis Dart SLF/Marshall Capital C39 R876MCE on the 16 service. Also noted on the 66 was Optare Excel JFZ8262 (P507OUG) on 29th November.
Regal
have obtained a trio of Alexander-Dennis Enviro200Darts. Numbered 650 (YX09HZA), 651 (SN10CAU) and 652 MX10DXO). Departing, perhaps unexpectedly, 2 of the original three short and narrow Solo SR's (201 and 202) leaving 203 in the fleet.
A further
Dennis Dart SLF/ALX200 noted at Townlink is S461CVV.
Trustybus
have also acquired a trio of Alexander-Dennis Enviro200Darts, but with unusual East Lances Esteem bodywork. PE56UFH/J/K are all former Quality Line vehicles. A more usual addition is that of Dennis Dart SLF/Plaxton Pointer KP54BYL in all-red. A number of older vehicles have left the fleet.
A new vehicle has been noted with
LCB Travel
, being Ford Transit EJ57VMY.
October 2014
The small fleet of vehicles based at TGM Stansted, already maintained at and operated as an outstation of Harlow, is now directly operated from Harlow. We are expecting that the two fleets will be fully merged in practice. The Stansted fleet has something of an unloved feel to it, with a mixture of liveries and logos, if applied at all. It really is now just the leftover elements of what was once Eastern National, later Excel Coaches bus operations, the only consistency of presentation being the route numbers. The two services are 301 (Stansted Airport to Saffron Walden) and 308/9 (Stansted Airport to Thorley Park and Bishops Park). Most operational vehicles at Stansted see occasional service at Harlow, and so will be familiar in any case. Stansted outstation was also used to dump supposed unserviceable vehicles from Harlow and other TGM Essex locations, although it was also not uncommon for these to have an afterlife in actual operation at Stansted. For that reason we'll list and add to the fleet only those which see service:

Dennis Dart SLF/Plaxton Pointer II's - AY54FPZ, P221MKL
Mini Pointer Darts - BU51REG, EU56CVG and EU56FTO

Unrelated, but noted in service of late, fully Arriva-liveried Dennis Dart SLF/Super Pointer Dart S701VKM.

Moving to Townlink,

three former Stagecoach Dennis Dart SLF/ALX200's

have been added to the fleet, being S472BWC, S473BWC and S467BWC. They will of course complement perfectly the existing examples. Preparation and repainting is underway

.



At Roadrunner, MPD V194ERG leaves the fleet, with V199ERG expected to follow on shortly afterwards. This reduced the once numerous class of former Go-North East vehicles to just 2 or 3.

Moving to Trustybus, EDS23 (BX58BEY) has gained both corporate livery and the name "Niamh-Brooke", this follows a facebook competition. Trident LK03CGF is also now painted in corporate livery.
September 2014


Further to our note from June, London General have continued to make use of single-deck eVolution MDL1 from time to time on the 565.

Over at Regal, the use of vehicles hired from Panther Travel based at Stansted Airport has continued as a regular occurrence. Panther's vehicles have something of a customised view to them, including tinted windows. An example is shown above on the 47. Meanwhile a second Trident ALX400, this time 1303 (X387NNO) has suffered a low bridge accident, leaving just one of the original 3 in the fleet.`

Meanwhile at Network Harlow the new school season has seen a new intake of double decks arrive for service this. One is usually seen on the 10, joining the other vehicle which works the 6 and 901. Scania Omnidekka YN06TFZ in TGM livery and Dennis Trident/East Lancs Lolyne T406SMV (5443) in Arriva livery have joined existing Trident 5451 (KN52NCD).

EOS have inevitably had to use back-up vehicles to the main fleet. Perhaps expected is Plaxton Primo BU08ACV, still in a white livery. Heavy loadings have also necessitated some duplication, and this has come in the form of Dennis Trident/East Lancs Lolyne W832NNJ, so far in full Brighton & Hove livery

August 2014


Harlow gets ready for a new service, a new operator name, and new colours from 1st September when EOS London, a trading name of Swallow Coaches, hits the road with new route 66 (and 66A paralleling the local Loughton - Waltham Abbey southern end of the route). Taking the livery colours of recently demised Pennine Motor Service, this should create quite an impression on the road, as well as restoring a regular Harlow to Loughton link, just in time for the start of the college year. The initial fleet is expected to comprise two former London Volvo B7TL's (see example above) and 3 Dart SLF's actually formerly owned by Pennine.

New arrivals at Trustybus are additional Dennis Trident/Plaxton Presidents LK03GKC and LK03GJZ in Metroline red/blue colours.

Cleaning up the fleet list a bit at Olympian/Roadrunner, we have removed MPD V198ERG, whilst at Townlink we have removed Dart SLF/Pointer II P741RYL. At Trustybus, gone are SPD1 (SNZ7259, formerly X964VAP), SPD8 (SNZ3869, formerly X962VAP), SPD6 (SNZ2980, formerly X956VAP), PD12 (RX51FNU). TGM Volvo B6/Wright 3255 (V255HBH) has been reported scrapped, reducing the fleet size to 5 from the original 8.

July 2014


Another new arrival at Trustybus and a second Enviro 300. This time the vehicle in question is registered SN61CYY, and at the time of entering service it is all-over black. Joining the existing fleet of Enviro 200's is former London United machine SK07HLR, seen in service in all-red, and similar vehicle MX10DXY in all-white. Mini Pointer Dart PDS33 (SHZ2691, also re-registered from T313SMV), Enviro 200 EDS25 (YX09FNG) and Mercedes Vario/Beaver 2 are now in Trustybus colours. One other re-registration is T312SMV to SHZ2246.
Another Scania/Olympus noted with London General on the 575 is PN09ELV.

Regular inward loans to the TGM fleet have been a recent feature. Unreliability of the Citaro's, accident or fire damage cover, and the need for Tacograph fitted vehicles on the 724 have all caused loans from neighboring fleets. Included have been Mini Pointer Dart EU56CVG, including on the 724.

Reported elsewhere is that Regal have purchased former Metroline Transbus Dart SLF/Pointers KP02PUH and KP02PVD.
June 2014


At Network Harlow, normally Colchester-based Dennis Trident/Alexander ALX400 5451 (KN52NCD) has been substituting for elderly Volvo Olympian/Northern Counties 5944. This sole double-deck working now operates the 6 as well as school day service 901
.


Now seen off by the recently arrived former Metroline Dennis Tridents/Plaxton Presidents, the second of the two former Dublin Olympians, T569EGD, has now departed the Trustybus fleet. Arriving and reported in service are Alexander-Dennis Enviro 200 YX08HCC, and less common Enviro 300 LY58PFX, this time in Trustybus colours. Fleet number is EDL35, the vehicle is also named "Little Hannah".

The London General 575 has recently played host to two new vehicle types. Firstly, the Scania/Olympus is exemplified by PN09EKU (formerly fleet number 872) and PO59KFY (formerly 896), both ex-Metrobus, both operators being within the Go-ahead group. More unusual on 28th June was VDL SB180/MCV Evolution MDL1 YJ60GGE, assumed on loan.

Regal services are not strangers to unusual coloured vehicles, nor loans from Panther Travel, but double-deck BIG5578 was a first on 24th June. More routine was the appearance of Dart SLF/Pointer II SIL6719
May 2014
At Trustybus, a second Mercedes-Benz Vario 0814D/Plaxton Beaver 2 has been seen and this time confirmed as in service, being KV51KZD, once again in blue. Again, it's not clear whether owned or loaned, and also whether this is additional to or a replacement for the vehicle noted last month. Meanwhile Dennis Trident 2/Plaxton President LK03GFX has appeared in a double deck version of the new Trustybus livery, to striking effect.

Operations at LCB seem to be sporadic as far as the 2 commercial services are concerned (LCB1 and LCB2). The former, after operating a variation to the route for some time, has been through long periods of non-operation. Additionally, The yellow MPD, which was the regular vehicle on the route, has been off the road for some time. The LCB2 has also been operating only a partial route for some time, and has recently been covered on that section by the changes to Network Harlow services 6 and 7.

Further to the note last month on Dennis Dart SLF/Plaxton Pointer II S307JUA, sister vehicles S309JUA and S316JUA have also been reported as having joined the Townlink fleet. All are former Arriva Shires and Essex stock.


The second Harlow running day took place on 4th May, and a mixture of glorious weather, good crowds, and a good variety of vehicles and services operating, would seem to point to a successful event. A few images are reproduced below

.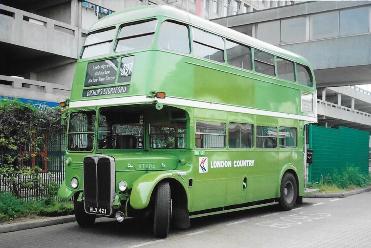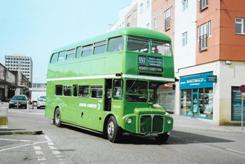 April 2014


Trustybus
have reregistered a number of vehicles:
Dennis Dart SLF/Plaxton Pointer II S93EGK to RHZ2264
Mini Pointer Dart X501WRG to VJZ3283, becoming PDS22 and gaining full new livery in the process.
Volvo B7TL/Plaxton President X649LLX to cherished plate G11GTL

Also gaining Trustybus livery is SPD9 (NFZ6606)

Expected shortly are Mini Pointer Darts T312SMV and T313SMV. These one-time Metrobus vehicles which saw service in London were latterly with Go-ahead group member Brighton and Hove. Also due, 3 former Metroline Dennis Trident/Plaxton Presidents, being LK03CGV, LK03GFX and LK03GJY .



Also noted, Mercedes-Benz Vario 0814D/Plaxton Beaver 2 EIG1357 (R279RAU), in all-over blue. Whether owned or loaded is not yet known.



Further fleet numbers are now known. Please see operator page for full details.

Meanwhile Network Harlow have gained Dennis Dart SLF/Plaxton Pointer S304JUA (3317). This was followed by an appearance of Dennis Dart SLF/Plaxton Pointer P279FPK (3249) on 22nd, bringing Arriva livery back to Harlow, although that may be a loan.

Dennis Dart SLF/Plaxton Pointer II S307JUA has been noted locally in the colours of Townlink, but not yet seen in service.


March 2014



Trustybus
fleet livery has been extended to SPD8 (SNZ3869) and SPD10 (SNZ7296). New acquisitions are Dennis Dart SLF/Plaxton Pointer II's NK51MKG (later numbered SPD28), NK51MKJ (SPD29) and NK51MKM (expected to have been SPD30 but actually carrying EDS22). Although these are in all-red, the originate from the Go-ahead fleets in the North East rather than being former London vehicles. Closer to London, and also joining the fleet, is similar R744BMY. This time ex-Metrobus, and numerically just one removed from one withdrawn last month.


February 2014

The vehicles of Panther Travel have appeared from time to time on Regal Busways services. The latest example was Volvo B6/Plaxton Pointer M832CVG, whilst semi-regular Dennis Dart/Alexander Dash P390LPS has also made appearances.

A new twist in the Swallow/TWH tale is that neither continued bus operations after 31st January, and as a result Harlow area route 555 ceased. Some localised schoolday replacement operations emerged elsewhere. but none reach Harlow. TWH have actually ceased trading, but Swallows other business is unchanged by this.
In the Trustybus fleet, short Dart/ALX200's R821HCD and S411TNO have been re-registered FXD2162 and FXD2175, numbered AD20 and AD21, and treated to smart new Trustybus livery. New arrivals have been coming at a pace. These include Mini Pointer Dart X501WRG, Dennis Dart SLF/Plaxton Pointer II's S91EGK (for spares), and S93EGK (in Trustybus livery), and DAF SB220/Optare Delta S403JUA (not yet seen in service). Also arriving, with local history is former TWH vehicle Plaxton Pointer II's P980LNB. Departing is PD11 (R745BMY). Finally, and representing a significant step forward in the age-profile, are three Alexander-Dennis Enviro 200's. These are registered BX58BFA (EDS24), BX58BEY (EDS23) and YX09FNG (EDS25).

A first for Harlow as far as we are aware was the operation of a Wright Streetlite on Saturday 8th February. Wheel-forward MX12CFM performed the 5/354 for Uno.

The Dart/ALX200 mentioned last month as arriving in the Townlink Buses fleet now carries fleet livery.



January 2014
A major change for TWH starting from 20th January. TWH will cease to operate in its own right, instead services will be operated by Swallow Coaches of Rainham. The expected vehicle for the 555 is a Plaxton Primo, illustrated above. Another sighting also on the 555 to report is Dennis Dart SLF/ Plaxton Pointer P199LKJ in essentially full Arriva National livery.

A few new fleet numbers have appeared on Trustybus vehicles, being:-
PD11 - R745BMY, Dennis Dart SLF/Plaxton Pointer II
PD12 - RX51FNU, Dennis Dart SLF/Plaxton Pointer II
PDS 17 - TNZ1186 (re-registered from V653HEC), Dennis/Plaxton Mini Pointer Dart

PDS 18 - TNZ1252 (re-registered from V660HEC), Dennis/Plaxton Mini Pointer Dart

Further renumberings at Network Harlow have essentially completed the exercise, although not all numbers changed. Please see the operator page for details.

Acquired by Townlink Buses, but so far only seen on internal shuttle duties is former Ensignbus, one-time Stagecoach East London, Dennis Dart SLF/Alexander ALX200 Y344FJN. It is of course a neat fit into others in the batch, but for the time being retains blue and silver livery.

Not previously reported on these pages as operating with TWH is Dennis Javelin/Berkhof Radial R714KGK, noted on the 555 on 13th January.
Townlink


Following the re-launch of the brand, below we have reproduced some images from the original incarnation. The townlink name, launched when London Country North East became County Bus, lasted until August 2001, the last vehicle to carry it being a former Wests of Essex Optare Delta 3329. Click on the picture below for a full-size image.



All pictures by Richard Hudson. For full descriptions, please see flickr page


December 2013


At TGM, both remaining Volvo/Wright's have gained SX Connect livery, being 3873 (KE57EPA) early in the month, followed by 3857 (KE54LPC) later in the month.

The Network Harlow fleet is due to be partially renumbered during December. Changes notes so far are as follows:

Versa
2406 (YJ58PFY) to 4198
Solos
2453 (YJ06FXS) to 1453
2454 (YJ06FXT) to 1454
2455 (YJ06FXU) to 1455
2459 (KE54OSU) to 1459
2473 (YJ56ATY) to 1473
Darts
3230 (V230HBH) to 1454

Changes to the Trustybus fleet, short Dart/ALX200 Y248FJN has ben returned, whilst similar replacements have arrived in the form of R821HCD and S411TNO, both being former Stagecoach East Kent. Another recent arrival is Volvo B7TL/Plaxton President, which looks striking out-shopped in red and gold, and so is presumably for the Galleon fleet.

A quick update at TWH. New into stock is Mercedes Vario/Alexander ALX100 X646WTN, whilst Mercesdes M458JPA mentioned below has now had its lower half and rear repainted blue (top retains red). Of the 2 former Lothian Trident/Presidents, W574RSG is parked up in an unfit condition, but W556RSG on the other hand has now received blue livery.
November 2013


SM Coaches
has rebranded itself as Townlink buses. The brand-name that was used by County Bus in the area in the immediate post privitisation era, retained by Cowie, but then dropped when Arriva succeeded them, has now re-emerged with the main competitor. The name first re-appeared a few years ago with Olympian/Roadrunner, featuring on the ex-London United Volvo/President double deckers purchased at the start of the 511 operation, and was expected to be used extensively by both Olympian/Roadrunner and SM, actually disappeared shortly afterwards. Now the reverse has happened and whilst Olympian/Roadrunner vehicles are either unbranded or carry the the Olympian name, all SM Coaches logos have been removed from the bus fleet, and most now carry a Townlink logo front and rear. Timetables, and the coach fleet, also use this new name.

Staying at Townlink, Dennis Dart SLF/Plaxton Pointer II's Y553XAG and Y554XAG, previously recorded on these pages as with Roadrunner, are now part of the Townlink fleet.

At TGM, one additional vehicle in the Volvo/Wright fleet has gained SX Connect livery this month, being 3874 (KE57EPC) leaving just 2 still to be dealt with. It would seem that a good number of the Dart SLF/Pointer fleet have departed, probably following the significant service losses from September. Believed to have left are 401, 402, 404, 405 and 3221. Also not seen in service and assumed gone are Transbus Enviro 300 566 (KV03ZGK), Volvo B6BLE/Wright Crusader II 3259 (V259HBH), Volvo Olympian/Northern Counties 243 (G643BPH) and Mini Pointer Dart 3828 (KE03UKK).
TWH
have been using a rather different vehicle on the 555 of late, being all red Mercedes-Benz 709D/Alexander Sprint M458JPA.

A few unexpected double deck workings have been noted around the town lately. Regal Busways have used Dennis Trident/Plaxton President V764HBY as a regular on the 390 service. Trustybus have been running Volvo Olympian/Alexander RV T569EGD on the C3 service, whilst Network Harlow have utilised TGM-liveried Volvo Olympian/Northern Counties R614MNU has been on the 10/20 Church Langley service during the daytime. To complete the top-deck picture, Go-ahead's 575 is also a regular double-deck operation, as is the Network Harlow 901.

October 2013






Network Harlow's

launch of the 509/510 SX Connect brand and service upgrade from 6th October has seen the arrival of 2 further Volvo B7RLE/Wright Eclipse Urbans, suitably painted. These are former Arriva Southern Counties 3731 and 3732, GN54MYO and GN54MYP. This matches the increase in PVR which now reaches 8 in total on this service. Existing similar native fleet vehicle 3856 (KE54LNR) also gained the new livery in the first week, followed by 3859 (KE54LPJ) in the second week, and both 3858 (KE54LPF) and 3860 (KE54HHF) in the third. The other 3 vehicles on the service still carry Arriva National livery, minus logos, for the time being. Conversely, SX connect liveried vehicles from both the 59 and 509/510 batches have been seen on the 10 and 20 town services during the month.

Following the reduction in requirements last month at Roadrunner, the three shorter ALX200's that were purchased only a few months ago have left the fleet. The vehicles in question are Y244, 248 (Y244FJN, Y248FJN and Y252FJN), however read on.

At Trustybus there have been a number of further re-registrations, see fleet page for details. A further pair of new arrivals are more Dennis Dart SLF/Plaxton Pointer II's, V653HEC and V660HEC. Fleet numbers are starting to be applied across the fleet. It is reported that one of the ex-Roadrunner short ALX200's, Y248FJN, has been purchased for this fleet.

TWH have acquired former Stagecoach Dennis Dart SLF/Plaxton Pointer II P980LNB. The livery has been modified to good effect, as above.

September 2013




The new school term, which often also coincides with ECC contract changes, tends to bring some new things each year. This year sees a number.

TWH started a Chigwell to Debden school service numbered 333, and whilst this operates outside Harlow, a massive Dennis Dragon/Duple Metsec came to the operator to run it, and has seen service on the 555 even on the first day. Registered L392LNA, it still carries Stagecoach's Magic Bus brand colours. Another arrival with the same operator is former Stagecoach Dennis Dart SLF/Plaxton Pointer II X954VAP, seen on the 555 it's from the same batch utilised by Trustybus in recent months. A start has been made on repainting former Yourbus KU52RYM. The front and rear are now blue.

Trustybus commenced their operation of routes 392 and 541/2/3. Typically buses are still in the livery of their former owner at this stage. There has been some mixing of vehicles between routes. Unexpected was the operation of Regal's MPD's 614 and 615, 2 vehicles still in Metroline colours. Other new arrivals are of Dart SLF/Pointer IIs W366ABD, W232DNO and W446DOP.

A new double decker has taken up duty on Network Harlow's Passmores Academy school service 901. Volvo Olympian R614MNU is in TGM standard colours. Talking of changing colours, The 2 Versa's on the 59 have been treated to SX Express branding, something that will also follow onto the 510 (509/510 to be).

At Regal, Trident/President T122KLD carries fleet number 1402, and not the expected 1305

August 2013

Previously mentioned in these pages is the integration of TWH with the Olympian/Roadrunner operations and fleet. In the summer this arrangement ended and TWH is now once again separate. Our fleet page has been tidied up to reflect this. Of the many disposals, Mini Pointer Dart X507WRG, one that was in royal blue livery, has been been sold to Roadrunner, and now acquired standard white and blue livery. An acquisition with that same operator not previously reported is Dennis Dart SLF/Plaxton Pointer II X554XAG.

Regal are in the process of taking delivery of 4 Dennis Tridents with Plaxton President. The first 2, numbered 1304 and 1305, registered V764HBY and T122KLD, have been reported. The other 2, numbered 1306 and 1307, are awaited. There have been a number of departures of late, mainly elderly examples, but notable was the first MCV eVolution bodied Dart, numbered 701 (AE55EHM).

Over at Trustybus, further registration changes are X969VAP to SNZ7296 and X968VAP to SNZ7293.


July 2013


Recently announced tender awards will see Trustybus (Galleon Travel) take over routes 392 and 541 in Harlow, as well as Loughton/Debden locals 542/3 from September. The 541 will revert to the previous pattern of operating between Loughton and Epping (St Margaret's Hospital), extending to Harlow during the evenings and Sundays. All are presently operated by TGM at Harlow. Four additional Dart SLF/Pointers and Four Dennis Dart SLF/Marshall Capital vehicles have arrived, the later being for the 541/2/3. Of the former type, X502ADF has entered service (the others are X503ADF, W501VDD and X962VAP). Meanwhile, the first vehicle has appeared in new Trustybus livery, being Dart SLF/Pointer II X964VAP, which is now numbered SPD1 and in the process of being re-registered SNZ7259. Others are to follow suit.



May 2013


Not directly affecting Harlow routes but a Harlow operator, after having taken the bold step of undertaking most of the former Centrebus Harlow operated network on a commercial basis last November, Roadrunner have had to concede much of it. Accordingly the following routes have been re-assigned on emergency HCC tender as follows, effective Saturday 18th May:

Route C1 (Cheshunt local) to Arriva
341 (Hatfield to Ware) to Centrebus
324 (Broxbourne to Hertford) to Uno
351 (Hertford to Bishops Stortford) to Galleon (Trustybus)

Further changes will take place at the end of June when route C3 will be withdrawn, and there will be changes to routes between Loughton/Debden, Waltham Abbey, Waltham Cross, Brookfield Centre and the section to Harlow via Bumbles Green. The section of route C3 between Harlow and Brookfield will be taken over by Galleon Travel (Trustybus) where a revised service C3 between Harlow and Hammond Street will also replace the existing Logic L3 from 17th June. In return, Logic town service 1 to Sumners and Katherines will cease, leaving that corridor to Roadrunner, and retiring the Logic name in the process.

Back a Roadrunner, some fleet reductions can clearly be expected, and indeed most hires listed below have a been returned. Of them X964VAP has surfaced with Galleon/Logic. This joins a what are now 5 others from the same former Stagecoach batch, and 6 other former London vehicles of the same type. A number of older vehicles have been or are in the process of being scrapped including V125/130/131GBY and W139/149ULR - see updated fleet page for current fleet.

A recent visitor on Network Harlow services was Mini-Pointer Dart EU56FTO. This vehicle, assumed to be on loan from Stansted, was once in the Excel fleet, and carries a white with blue skirt livery identical to that of SM/Olympian/Roadrunner. Also joining the local fleet, and joining the arrivals from the same batch of former Southern Counties in March and April are
Dart SLF/Pointers P221MKL and P226MKL
. They are in Arriva livery but with Network Harlow logos applied.

The vintage running brought some old routes back to life, as well as traditional types from the London Transport era. The occasion was to commemorate 50 years of Harlow Garage. Click for full size images.





April 2013




Uno stared operations in Harlow on 6th as planned using pink-liveried Optare Solo YJ58PHN on the 5/354. Because Uno is quite a substantial operator with only a minimal presence in Harlow, we only plan to feature a representative image of the vehicle types in use on the Harlow routes, whatever they turn out to be. The second week of operation saw Dennis Dart SLF/Plaxton MPD FM52GFA.

The ever-growing fleet of Pointer Darts of a certain vintage at Olympian/Roadrunner this months sees former Stagecoach vehicles X962VAP, X964 and X968VAP join the ranks on loan from Ensign. Also noted on hire is similar vehicle RX51FNY in red and more unusual is Volvo Olympian/Northern Counties R257LGH. The vehicle is in all-over yellow, and has no fleet ID or destination indicators. It was sighted with a handwritten paper "511" in the windscreen, so we assume it has seen service (later confirmed). Finally on the hire front, Dart/Cartano T426LGP in Go-North East livery. More likely to have been acquired based on the fact that it's in blue and white livery is Pointer Dart X542XAG, joining the similar vehicle mentioned last month.

And from the same batch of Dart SLF/Pointers as at Olympian, X969VAP and X971VAP have surfaced with Logic, the later at least seen operating in service in Stagecoach livery. Staying with that operator, Volvo Olympian/Alexander RV T569EGD, one of a pair in the fleet, has been seen on the L3.

Operation of Olympian or Roadrunner vehicles on the TWH 555 is now quite common, but more unusual on 12th April was Olympian Coaches Volvo B10M/Plaxton Premiere 350 N66BUS. Conversely TWH Dart X507WRG has seen service on the C3.

Finally, a very neat fit vehicle-wise into the Network Harlow fleet is Volvo B6/Wright Crusader 3259 (V259HBH) which joins the six remaining in service from the batch acquired new in 1999. For the time being Arriva inter-urban livery is carried. Also noted, are Dart/Pointers P229MKL, adding to the one of the same batch from Southern Counties reported last month. The vehicle still caries fleet number 3229, as does another vehicle in the local fleet.

Finally, for all followers of this page, make a note of Sunday 5th May, it will be the Harlow running day. Superbly preserved vintage buses recreated old routes. More details to follow.




March 2013




Further to the arrivals at Olympian/Roadrunner last month, Y244FJN, Y248FJN, V808KAG and Y553XAG have quickly emerged in normal fleet colours. Joining the fleet this month is Dennis Dart SLF/Plaxton Pointer II Y152NLK. The vehicle is in Metroline colours. Evidence that the TWH operations are being integrated with the other operations at Roadrunner/Olympian have been through vehicles appearing across the fleets. As examples, P301AYJ was on X5 on 2nd March.

In the Network Harlow fleet, an Arriva group internal transfer, sporting inter-urban livery, is Dennis Dart SLF/Plaxton Pointer P223MKL (3223). Seen on a variety of local services.

Looking ahead to the end of the month, Centrebus will cease to operate their the Saturday HCC contract services 5 and 354, ending their association with the town completely (later update: the last vehicle was Dennis Dart SLF/Alexander ALX200 no. 504, HJZ9928, formerly W871VGT) . This association started in summer 2009, when they took over the operations of Trustybus. In their place, however, a new operator to the town in the form of Uno. Uno are of course a significant operator across Hertfordshire, with their distinctive pink and purple livery.

Something of a break from the norm occurred on the London General 575 service, when LX59DFK, a Volvo B9TL/Wright Eclipse Gemini 2 from the batch of vehicles used on the Blue Triangle EL1/2 services appeared.

First has minimal operations in Harlow, but stole something of a march when Alexander Dennis Enviro 200 YX13AKF was used on the 347 and by that became the first brand new vehicle to see service in the town for some time. Chelmsford City branding is carried.

Also at the end of the month, the withdrawal of the X5 will cut the remaining direct link to Romford on a Saturday once again.

February 2013




Following completion of the Optare Solo's, the latest vehicle to acquire Network Harlow two-tone blue livery is Mini Pointer Dart 3828 (KE03UKK). Meanwhile an old friend returning is Dart SLF/Pointer II V231HBH (3231). This was one of the first pair that arrived in 1999 to kick-off Church Langley service 10, and remained at Harlow until about this time last year. It has been seen back on it's former stomping ground.

Additional arrivals at Olympian/Roadrunner are short Dart SLF/ALX200's Y244FJN, Y248FJN and Y252FJN. All are in red for the time being. Also arriving and in company blue and white are V787FKH, Y653NLO, N664NLO, plus V808KAG and Y553XAG still in red, adding to the large number of Dennis Dart SLF/Plaxton Pointer II's. A vehicle we are advised will return to service shortly will be Volvo B7TL/Plaxton President W461BCW.

January 2013




A few new Dart SLF/Pointer arrivals at Regal are 613/4/5, registered W701BFV, Y252NLK and Y258NLK. At this stage only 614 has entered service, still carrying Metroline livery.

All of the Darts acquired by Roadrunner for the former Centrebus services are now in corporate livery, the final red example having been LX51FGN. Logos or branding are yet to be applied.

After various operating difficulties, TWH look set to integrate into the Olympian/Roadrunner operations. Vehicles have transferred to the operating site at The Pinnacles, and routes are expected to transfer at some time in the near future.


Please note that this is an unofficial site, and whilst every effort has been made to ensure the information is accurate and up to date, no claims can be entertained for losses caused by any errors or omissions here, or through any shortcomings on the part of the operators themselves. We would be grateful if any errors could be notified to us, in order that we can make a prompt correction. Any suggestions, comments or other forms of feedback are most welcome. This site acknowledges the support provided by local operators, but is not directly linked with any operator.


[Top of Page] | [HarlowRide Main Index]