QUICK LINKS
Old news
2019 and 2020
2017 and 2018
2015 and 2016
2013 and 2014
2011 and 2012
2009 and 2010
2004 to 2006
2001 to 2003




Semi-regular news updates which would be of interest to the enthusiast have been provided on this site since 2001. This page contains the updates published between 2007 and 2008 inclusive. It should be read in conjunction with the route change history page.




December 2008
A second Dennis Dart SLF/Marshall has arrived at SM Coaches. P831BUD follows consecutively from last months arrival.

A boost to the 724 stock at Arriva, with BK58URL joining the fleet. It takes fleet number 3910, following on from others in the same fleet. A second Dennis Dart SLF/Wright Crusader has been noted in service locally, this time in the form of 3439.

November 2008




The main news is the arrival of a new class at Arriva. Two Optare Versa's have taken up residence as the main allocation on the 59. YJ58PFY and YJ58PFZ, fleet numbers 2406 and 2407, carry full route branding on inter-urban livery.

A new arrival at SM is Dennis Dart SLF/Marshall P830BUD. It is in full company colours and has been seen operating regular town services.

Imperial are building up a small fleet of Dennis Dart SLF/Marshalls too. S520KFL and R874MCE join the first example mentioned below.

October 2008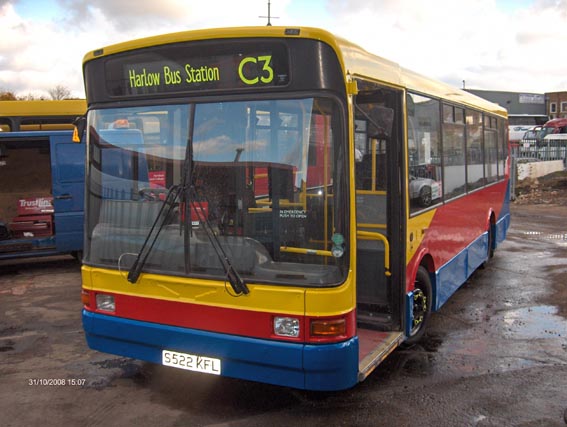 Trustybus have launched their new livery, although in the shots above logos have yet to be applied. It remains distinctive from the white-based schemes of the other independents in the town. Another new arrival is Dennis Dart/Plaxton Pointer L161XRH, being ex-London DRL161.

A new addition at TWH is that of Dennis Dart SLF/Marshall N762SAV. This in readiness for the expansion of the 55 from 1st November.

Arriva have been using Dennis Dart SLF/Wright Crusader 3416 (P416HVX) on town services. This has visited Harlow before when during its life at Ware, it was used to cover for DAF/Plaxton Prestiges on the 724.

At Excel, a new class to join the fleet are Caetana Compass bodied Dart SLF's. HX51LSN and LRJ are still in Network Colchester livery.

August/September 2008




At Trustybus, Dart/Marshall S522KFL joins similar vehicle 521. Metroline livery is carried whilst the future of the existing scheme is considered. On rental is Alexander-Dennis Enviro200Dart KX58GTF. Similarly all white ex-Thames Travel Mini Pointer Dart KX52RXF leaves the fleet. This was used predominantly on the C1.

TWH have launched their 55, with branded scania vehicles in blue and gold as expected. Also seen in service is ex-Kentish Bus Olympian/Northern Counties G551VBB.

Over at Excel, some of the old deckers have been cleared out as a result of a trimming of schools services. In their place on the 333, alongside the regular Darts, Mercedes Vario/Eurocoach vehicles Y877WFL and X734MFL. Destination equipment as lacking as passengers when seen.


June/July 2008
The introduction of the low-emission zone in London is likely to prompt a fleet upgrade at TrustLine. First to go are the ex-Dublin Olympians, with Excels and Darts presently up for sale. Dart/MCV AE55MVL has returned to the fleet, but now with the livery of a what would have been the purchaser. Another arrival is Dart/Marshall S521KFL, previously with MetroLine. Finally, the whole fleet is to adopt the Trustybus name from 1st August 2008.

Advance notice of a new operator to the area coming shortly. Travel with Hunny will be introducing new route 55 from Monday 8th September. The basic service will be an hourly Monday to Friday Harlow to Loughton/Debden circle, followed with a evening and night N55 variant on Friday and Saturday nights, and an L55 Lakeside shopping trip on Saturdays. Vehicles are expected to be ex-Stagecoach Scania single decks M298TWB and M953DRG in a blue and gold livery with route branding.

A couple of new arrivals at Arriva. Dart/Marshall C37 M504VJO new to City of Oxford, and Dart SLF/Pointer P190SRO. Look out also for some unusual sightings near the garage too when the vehicles of the Stansted to London Easybus service transfer there shortly.

Imperial have been employing a smaller than usual vehicle on the H1 recently. S526KFL is a Dart SLF with Marshall C39 bodywork, now in green livery. It was formerly Metroline DMS26.

It was suggested that Excel were to allocate fleet numbers some while back. Although a little out of our area, we believe that the MAN/MCV evolutions used on the 308 may have been allocated numbers 561, 562 and 563. They have not been sighted with or without at this stage.

May 2008
A bit of a fleet-change around would seem to be underway at TrustLine. Arriving are four Optare Excels, with more potentially on the way. By way of a contrast, also in is Mercedes L709D/Plaxton Beaver J861HWS. The company recently took over Cheshunt local service C1, so no doubt some are for this, but there are also some withdrawals, including relatively new Dart/MCV AE55MVL, Mercedes minibus N159MTG and ex London Country Olympian/Roe TPD125X. Further sales in this fast-moving fleet are expected shortly.

Further to last months report on the changes at SM Coaches, it seems that the M prefix has been retained for the M1 and M31 services. A little further branding has been added. Two vehicles now carry wording related to the 14 shuttle service, mainly operating between the town station and town centre.

At Arriva, Beaver2 2375, mentioned below, is in mainly all-over advert livery for Fishpools of Waltham Cross. The vehicle could in theory reach there on the 250 or 251, but the former is usually Dart operated and the latter seems exclusively operated by Solos, and so it's unlikely. Vehicles are often mixed at Arriva, but unusual was step-entrance Dart/Pointer 3357 on the 510 on 16th May. This vehicle was once one of the branded regulars on the route, but was ousted over 3 years ago by brand new Volvo/Wrights.

March/April 2008


| | |
| --- | --- |
| | This picture illustrates all of the changes at SM. It is a new bus, wearing the new colours, on a route formally operated by Olympian, and visible on the A4 sheet in the windscreen is route number 31. Click for full size image. (R Hudson) |


Something of a major rethink be seem to have taken place with the local bus services of SM Coaches and Olympian Coaches. Firstly, it would seem that the SM Coaches brand is being applied to all local bus services, so now including the M1/M31. Next, a livery change. Vehicles have progressively been changed over to having a blue skirt and blue SM Coaches fleet-name, replacing the maroon colour that has been in use for over 20 years. This combination is also being applied to the five ex-Stansted Transit (once of Armchair) Dart SLF's that were part of the Olympian fleet. Next, new vehicles arrivals. Into the fold are three brand new Alexander-Dennis Enviro200Darts. In the new colours and featuring LED displays, these are in regular service, and have reduced the appearances of step-entrance minibuses (mostly Iveco/Marshalls) to peak extras only. A new and simplified route structure has been launched (see main page) with a published timetable pamphlet. Inter-changes between services and multi-journey discount tickets are available. What remains of Olympian (still the brand name of Olympic Bus and Coach and Roadrunner companies) is focused on London commuter coaches, contract and schools services. Finally, it would seem that the M or SM prefixes to services seem to have been dropped in practice.
Reported elsewhere is the fact that Excel has been purchased by TGM, itself owned by Arriva. Reportedly independent trading will continue. Even if the two separate 333's continue, this effectively brings to an end competition between Harlow and Bishops Stortford that started in 1986, and has seen participation from Eastern National, later First Essex, LocalLinks, later Centra, Excel and even in a limited way SM Coaches.

Rather more routine news by comparison is the arrival of Mercedes vario/Beaver II 2375 (R945VPU).

Over at TrustLine, adding to the Dart variety is Alexander bodied KU52RXF, so far noted in all-white livery and not yet in service.

January/February 2008

A new arrival at Arriva is one-time Kentish Bus Dart/Northern Counties L119YVK. Standard Dart/Pointers continue to leave the fleet Native K408/9/414FHJ amongst those departing recently. Of these, '408' has resurfaced locally with SM Coaches, now in all-over white and '414' has been sold to Regal Busways

Following the arrival of the Northern Counties Olympians at Imperial, inevitably a few older vehicles have now left. All-Leylands Olympian F41XCS and Titan T214 amongst them. Another arrival, this time a single decker, is Dart/Marshall R710MEW, ex Metroline

From the same batch, and representing a small departure from recent second-hand intakes at Trustline are R711MEW and S528KFL.Gone is the Volvo B6/Alexander Dash.


December 2007

| | |
| --- | --- |
| | |
| | |
At Arriva, the two Volvo B6/Wright crusaders that were originally branded for town service 4 3255 & 3257, have gained new branding for the same service. This time they have been joined by a third with 3256 filling the gap. The maroon coloured 'Metro 4' branding has morphed into 'Blue line 4' and at present is on the nearside only. Another brand new and as yet unbranded Volvo/Wright Eclipse Urban has joined last months arrival. 3874 is KE57EPC. Solo 2488 (YJ57EJK) also new and recently seen in the area.

Imperial have undertaken an upgrading of route H1. In addition to the route changes and a dedicated website, three Northern Counties Olympians have joined the fleet. All three are once of the Kentish bus 'Lea Bridge Road' TfL services but are now single doored.

Over at TrustLine, the last of the Metroriders, Dominators, and some previously unreported National Greenways have now left the fleet. A third ex-Dublin Olympian H764PVW (previously 91D1075) has now joined.

November 2007

New arrivals at Arriva represent two extremes. Firstly, brand new Volvo/Wright Eclipe Urban 3873 (KE57EPA), similar to the existing examples on the 510 but without the branding. Also arrived, rather older Volvo B6/Northern Counties L316HPP. A further batch of new Solo's is entering service, 2484 (YK07BEO) as an example.

Excel have expanded their operations, taking over some of the former services, mainly schools services, of Fargo Coachlines. The majority of the rest are now operated by sister company Stephensons. There is no route impact on Harlow, but the inheritance of a number of vehicles could well result in some further variety being seen locally. Not previously reported is the ownership of a pair of ex-London Buses ECW bodied Olympians, both in fleet colours.

The GSK shuttle contract run by Olympian Coaches has recently seen a change in vehicle type. Volvo B10M/Plaxton Excalibur coaches V282 and V283SBW have recently arrived, once of Oxford City. Another vehicle to have operated for this company, but on regular town work is Alexander-Dennis Enviro200Dart demonstrator SN56AYA. While it was about, it also worked for SM Coaches.

Trustline have now relocated from Hertford to Harlow. New Darts arriving include Pointer bodies K92BNY, J51EDM, K58LLG, L61PDM, L63SFM and L64SFM. Also new, Dart/Carlyle H133MOB. Not previously reported is the rather unexpected arrival earlier this summer of Mercedes 711D/Wadham Stringer minibus N159MTG.

1st October 2007

At Arriva, the Metrobuses appear to have been stood down, at least one (C437BUV) having been sold.

Further detail on the new vehicles at Excel is that six ex-Brighton & Hove East Lancs Scania's have acquired in total, five of which are now ready for service. See the Excel section for detail. Leaving the fleet are Olympians KTL44Y, A888PKR, A890PKR

and B204DTU. To follow them in the near future will be the step entrance Dart/Pointers and Volvo/Alexander PS single deckers.

Imperial, meanwhile have a very close relative of the Arriva vehicle recently seen on the H1. C440BUV represents a return of Mark 1 Metrobuses.

SM's third Iveco Logo has arrived. Registration no. EU07XGL in white livery has seen the class take up service on the 19. All three now have fleet names applied.

At Stansted Transit, DAF SB120/Wright has been sold. Five Dart/Pointer SLFs that originated with Armchairs' operations in West London would appear to have been sold to Road Runner/Olympian Coaches. The vehicles concerned are P677/8/81/4/5RWU. All have entered service on the M1 group ,seemingly displacing Iveco/Marshalls. Plain white livery is carried at present.

Also at Stansted Transit, at least 5 new Alexander-Dennis Enviro200 Darts would seem to have arrived. Sighted are KX57FMA and FMF. Two further Mini Pointer Darts have been added to the reasonable number now in operation. Slightly older than the existing fleet are YT51EAK and KP51SXU.

Next with the same operator, a new livery has been seen. Dart SLF/Pointer 2 T74WWV and Optare Delta J202VHN appear to have gained an 'aqua' colour above the window line.

Trustline 's Lynx II's have entered service. H756WWW has been seen on the C3 in full fleet colours. The other vehicle is H356WWX.

1st September 2007

Arriva. Of the two Dart/Pointers that once carried dedicated livery for Inter-County as part of their Bishops Stortford Park and Ride duties, 3357 had been repainted into corporate livery, but 3359 continues to carry the dark green advertising colours, although it now operates in normal service.
Dart/Wright Handybus 3818, having operated previously at Harlow, has returned for another tour of duty. As this vehicle has a one-piece number blind, paper printed details seem to be making do. Ironically, a custom number blind was produced when it last operated here.

Excel have had a change around in the double deck fleet. New arrivals include a number of Scania/East Lancs vehicles with the 'Nottingham' style fronts.

Regal have been operating a Dart SLF/Pointer in an all over silver livery for some months. Fleet number 611 is carried on X211ONH.

SM Coaches have a launched another surprise, this time on the vehicle front. Two new arrivals in the form of Irisbus Unvi/Logo minibuses. One each in white and silver, and so far without fleet-names. Typically, one works on the 524, and the other on Town Station to Bus Station shorts of the 15 (the M seems to have been dropped). The main service from the Bus Station to Potter Street is in the hands of two rather larger Dart SLF/Pointers.

Trustline
The two ex-Dublin Alexander Olympians have arrived, and carry fleet livery. Two of the Dominators have now gone, the others expected to follow shortly. Also removed from service, 2 each of the B6/Alexander Dash vehicles (426 and 430) and two Metroriders (409 and 429). Two Leyland Lynx's are reported to have arrived, but their intended use is as yet unknown.


29th July 2007

A personal note - Before any news, I must firstly apologise for the lack of updates in recent months. The running of this site very much "fitted in" between work, family and other demands on my time, and these have had to take higher priority in recent months. To make amends, for any regular readers that would like an e-mail notification when significant site updates take place, please e-mail me at harlowride@aol.com and I will be happy to oblige for the rest of the year. Now back to the more regular fayre....

At Arriva, the solitary Dart/Northern Counties Paladin single decker moved on after just a brief stay.

Excel, having upgraded routes 308/9 and 333, have stated to remove surplus old minibuses. Three of the Mercedes L709D/Alexanders that were part of the start-up fleet have now moved on.

SM Coaches have had a shuffle round of vehicles. In comes ageing but refurbished Dennis Dart/Plaxton Pointer J313WHJ.

The Trustline fleet continues to evolve. Five East Lancs bodied Dennis Dominators once of Southend have joined the fleet. Although mainly for rail replacement and private hire work, it wasn't long before appearances on the C3 were noted. All the same, they are not destined to stay long, two ex-Dublin Olympians will replace them shortly.

Also going out, the two ex London Caetano Compass Dart SLFs that at one time carried dedicated 392 branding and later on were in Airport white and blue. Dart/Carlyle H123MOB is now in fleet livery.

The operator pages do still require some updates, something that I should be able to do over the next month. Some new pictures will also appear as part of this. Please watch for 'last update' dates at the top of the page.

5th February 2007

At long last, it seems that the age of the standard Mercedes minibus with the original Plaxton (was Reeve Burgess) Beaver bodywork, at Arriva at least, has ended. 3185, a relatively recent arrival, is now withdrawn from service. There are of course some Vario/Beaver 2's, but Optare Solo's very much dominate the town network. Talking of the varios, 2189, the one with the Sainsbury's rear advertisement that was the regular on the 252 at Waltham Abbey, has been fitted with an LED front display. This is the first conversion of a Harlow vehicle. Metrobus 5379 has now gained a front number blind, which appears to be purpose-made.

SM's competitive strike continues. Hot on the heels of the 524, route SM19 (displays 19) has now transformed into an every 45 minute service running to Epping via First Avenue, New Hall, Church Langley and North Weald. It actually opens up a lot of useful links. As a former Church Langley resident, I am aware that people were looking for buses to both Old Harlow and Epping, when none existed. Regrettably publicity is close to zero, so it remains to see if it will be successful. Iveco minibuses, now with new lower case blinds feature on both new routes.

Trustline will be losing the 392, the route that started them off in Harlow, when from 5th March, this and the B14 (to be plain 14) pass to Stansted Transit. Ex-Reading Titans have cropped up on the C3, an example being '77' on 5th February, but we know this is not the only occurrence. Another interesting sighting was of one-time London Dart/Carlyle H123MOB on the 392 in Birmingham Motor Traction livery

The newly reduced Excel 333 now omits both Old Harlow and Potter Street. A move which I have to say surprises me, as it serves no other traffic objective and saves very little time. As it also takes a different route in Bishops Stortford to that of Arriva's version, perhaps a renumbering, say to 533, might have avoided the inevitable confusion that will now be caused to passengers. On the vehicle front, an internet report suggests that fleet numbers will be allocated, although recent sightings have not revealed these as being carried yet.

Finally, on the infrastructure front, an electronic bus-times sign has appeared at Old Harlow Post Office. It's not yet in use.



**************

For news bulletins between 2004 and 2006, please Click here
For news bulletins between 2001 and 2003, please Click here








Please note that this is an unofficial site, and whilst every effort has been made to ensure the information is accurate and up to date, no claims can be entertained for losses caused by any errors or omissions here, or through any shortcomings on the part of the operators themselves. We would be grateful if any errors could be notified to us, in order that we can make a prompt correction. Any suggestions, comments or other forms of feedback are most welcome. This site acknowledges the support provided by local operators, but is not directly linked with any operator.


[Top of Page] | [HarlowRide Main Index]