Old news
2019 and 2020
2017 and 2018
2015 and 2016
2013 and 2014
2009 and 2010
2007 and 2008
2004 to 2006
2001 to 2003
Semi-regular news updates which would be of interest to the enthusiast have been provided on this site since 2001. This page contains the updates published between 2011 and 2012 inclusive. It should be read in conjunction with the route change history page.



December 2012




A few fleet changes at Logic Bus. Out goes Dart SLF/Pointer T35KLD, whilst new in are similar vehicles W149ULR, RX51FNP, RX51FNT, RX51FNU. All are ex-Metroline, the latter 3 having originated with Armchair. Related company Galleon Travel have acquired former Dublin Bus Volvo Olympian/Alexanders T569EGD and T570EGD.

November 2012




First day operation of the expanded Olympian/Roadrunner operation appeared successful with many of the new vehicles (see below) entering service. A number of SM Coaches vehicles appeared in support, and some recent acquisitions appeared in red. Joining the fleet from SM Coaches is Irisbus Agoraline AU05FKC. The last of the yellow liveried Mini Pointer Darts, V198ERG, has now gained corporate white and blue.

Dennis Dart SLF/Plaxton Pointer II KU52RYF has been seen in service with TWH, joining sister vehicle mentioned below. Both are in purple-based Yourbus livery. Other guests noted include ex-Lothian Trident/President W556RSG in all white and Dennis Dart/Caetano Nimbus EU06KDJ, a vehicle that operated for a while with SM Coaches.

A new operator will come to the town when Go-ahead's London General company commences the newly expanded 575 (Harlow/Epping to Romford) service from 19th November. Volvo B7TL/Plaxton President PVL223 (Y823TGH), complete with tree deflectors, has been seen training in the area, operation has seen a number of similar vintage and type of vehicles operate. We are advised that there is a special operation planned on route 575 on Wednesday 28th November, using Routemaster RM9. The journeys it will operate are: 09.25 Harlow Bus Station via Epping High St 10.00, Debden 10.11 to Romford Brewery (arr. 10.58). It then departs at 13.00 Romford Brewery via Debden 13.47 and Epping 13.58 to Harlow Bus Station (arr. 1433).

October 2012




Centrebus have announced the closure of their Harlow depot from after service on 4th November 2012. Some services, including Saturday single journey routes 5 and 354, have been transferred to Stevenage, but the lions share of the operation, including the main Waltham Cross to Harlow C3, will transfer to Roadrunner. See also Roadrunner/Olympian notes below.

The newly extended TWH service E20 started on 1st October, and featured two new arrivals in the shape of former Metroline Dennis Trident/Plaxton Presidents T101KLD & T138CLO. The vehicles featured full traditional blinds, and retained their former operators livery, but did not last long before being returned to the dealer. Other vehicles noted in service with this operator during this month are Dennis Dart SLF/Caetano Compass V434KGF and Dennis Dart SLF/Plaxton Pointer II KU52RYM.

At TGM, repainting of the Harlow-based Optare Solo fleet has been completed, with 2474 having now emerged from repaint in Network Harlow colours. Meanwhile neither the red Dart/Crusader (3439) nor the Scania/East Lancs double deckers (M161/2GRY) have seen regular service for a while, and so are assumed to have departed.

SM Coaches have added another 2 Dennis Dart SLF/Alexander ALX200's to the fleet from the same source. This time they are Y293FJN and Y296FJN. Going the other way, the third and final E200 has left, and the Irisbus Agoralines are now all parked up out of service.

At Olympian/Roadrunner, in readiness for the take up of the services formally operated by the Centrebus Harlow depot, a significant quantity of Dart SLF's have arrived. They are reported as being the following:

| | |
| --- | --- |
| Dennis Dart SLF/Plaxton Pointer II | Y153NLK |
| Dennis Dart SLF/Plaxton Pointer II | Y161NLK |
| Dennis Dart SLF/Plaxton Pointer II | Y237NLK |
| Dennis Dart SLF/Plaxton Pointer II | Y662NLO |
| Dennis Dart SLF/Plaxton Pointer II | Y667NLO |
| Dennis Dart SLF/Plaxton Pointer II | Y669NLO |
| Dennis Dart SLF/Plaxton Pointer II | Y672NLO |
| Dennis Dart SLF/Alexander ALX200 | LX51FGV |
| Dennis Dart SLF/Alexander ALX200 | LX51FGJ |
| Dennis Dart SLF/Alexander ALX200 | LX51FGN |
| Dennis Dart SLF/Alexander ALX200 | LX51FGO |
| Dennis Dart SLF/Alexander ALX200 | LX51FHF |
| Dennis Dart SLF/Alexander ALX200 | LX51FHG |
The ALX200's are ex East London whilst the Pointers are ex-Metroline. So far, 662 and 669 have been seen to have had the white and blue livery applied. "FGO" has been seen having had a single door conversion. Perhaps unexpectedly, it would seem that conventional blind boxes have been retained, and a few have been seen variously displaying neat full depth blinds, including custom one-piece numbers, for the R1 and C3.

Routes being taken up for local operation are as follows.

C1: Turnford, Cheshunt, Goffs Oak, Cuffley (Mondays to Saturdays)
C2: Cheshunt, Brookfield, The Old Pond, Waltham Cross. (Mondays to Saturdays)
C3: Harlow Bus Station, Stansted Abbots, Hoddesdon, Broxbourne, Turnford, Cheshunt, Waltham Cross. (Mondays to Saturdays)
C4: Hertford, Ware, Hoddesdon, Broxbourne, Wormley, Turnford, Cheshunt, Waltham Cross. (Sundays)
341: Hertford, Essenden, Hatfield Galleria, Ware College. (Mondays to Saturdays)
351: Hertford, Stansted Abbots, Much Hadham, Bishops Stortford, Stansted Airport. (Mondays to Saturdays)
324: Broxbourne Station, Hertford. (Mondays to Saturdays)
311: Hertford North, Ware, Hoddesdon, Broxbourne, Cheshunt, Waltham Cross. (Sundays)

Worthy of note, is that Clintona Minicoaches ceased trading just recently, upon the retirement of the owners. Clintona, based in Brentwood, provided rural minibus links in the Harlow area, including very early wheelchair accessible vehicles, and for some time provided Harlow's local Sunday services.

September 2012




Further former Stagecoach East London Dennis Dart SLF/Alexander ALX200's LX51FHJ, Y346FJN and Y351FJN, have appeared in service with SM Coaches, bringing the total fleet size to 10. Full corporate livery is carried.

Optare Solos 2465 (KE55KTJ) and 2467 (KE55KTC) are the latest at TGM to receive Network Harlow livery. This leaves just 2474 (YJ56ATZ) of the Solo fleet to be done. A potential casualty to report is Volvo B6/Wright Crusader 3253 (V253HBH), seen with clear evidence of an engine fire.

Latest sightings at TWH are Dennis Dart SLF/Caetano Compass V434KGF, seen in Go North East Livery, and Dennis Dart SLF/Alexander ALX200 T152AUA, seen in red with blue skirt. Meanwhile Mini Pointer Dart X507WRG has been repainted into Royal Blue livery.

Another former Metroline Dennis Dart SLF/Plaxton Pointer II has surfaced with Logic Bus. This time it's W139ULR.

August 2012




At Centrebus, and inward arrival is London Dennis Dart SLF/Plaxton Pointer II 596 (T164RMR) This has replaced Solo 364 (T297BNN) which was on loan from Stevenage.

A new arrival at Logic Bus noted is former London Dennis Dart SLF/Plaxton Pointer II W126WGT. This is in all-over red and, unlike others in that fleet, has an LED display.

A bit of a different type of operation has been started by the London Bus Company, who also run the Epping Ongar railway. Route 396 will connect North Weald with Harlow twice per day on Mondays, Fridays and Saturdays during August. For full details, visit eorailway.co.uk. Red and green RT's are likely to be the regular offering.

A couple of reported departures at Olympian are Mini Pointer Darts BU05HDV and BU05HDO, these two having not long received fleet livery. It should be notes that three of the fleet still carry the yellow livery (V198ERG, V199ERG and V729DNL).

Previously unreported arrivals from earlier in the year at Regal are 3 Dennis Tridents/Alexander ALX400's X298NNO (fleet number 1301), X312NNO (1302) and X387NNO (1303). These are striking in the new contemporary livery, and have seen service locally on the Epping to Chelmsford service 7. Also in the fleet and of another generation is former Southend Olympian H263GEV. Mini Pointer Dart 602 now carries the red contemporary livery.

Further Dennis Dart SLF/Alexander ALX200's have surfaced with SM Coaches. LX51FGU, LX51FHA and LX51FHK are in corporate livery, as now are the three arrivals reported last month, whilst LX51FHB has entered service in London red. A second Enviro200Dart departing is EU08FHB.

An unexpected sighting on TWH's X5 was former London Leyland Titan T823 (A823SUL). It carries yellow livery with extensive branding for Garnett Bus and Coach Hire.

July 2012




A little reduction of the Harlow fleet is taking place at Centrebus. This is due to the loss of some Hertford-area tenders, and the transfer of the remaining services there to Stevenage. Departed so far are Solos 323 and 353 and Dart SLF 541 with Solos 322 and 390 expected to follow in August. Meanwhile former London Dart V559JBH (586) has appeared in full Centrebus livery with an LED display fitted.

Not previously reported on this site is that Regal acquired two former Metroline Darts, W133WGT and W136WGT late in 2011. As one has now been seen in service in the full contemporary livery, we have now added them. Similarly, 22 year old all-Leyland Olympian G34OCK has also operated on the 391 and therefore been added. Previously thought-withdrawn step-entrance Dart 514 (N414MBW) has been seen back in service on Waltham Abbey local services.

Further OlympianCoaches.co.uk fleet name application at Roadrunner has now extended to Dart SLFs P758FOD, Y907TGH, S117EGK (formerly red), Y862TGH. V188ERG, V196ERG (formerly yellow) BU05HDV and BU05HDO. In fact, in reality we feel we should probably now start to refer to the new name, in relation to the public section of the site at least. The OlympianCoaches.co.uk website is now updated and available.

A surprise departure at SM Coaches is that of Enviro 200 EU08FHD. This was one of three vehicles acquired new, and having seen service solidly for 4 years. Arriving for school and crew ferry duties is Mercedes L709D/Reeve Burgess Beaver J628UTW in all white. New into service are Dennis Dart SLF/Alexander ALX200's LX51FFW, LX51FHL and LX51FHH. All are either in, or in the process of having, fleet livery applied. The Irisbus Agoralines have not been seen in service, and so may have departed.

Following the joint locating of the Roadrunner and SM bus fleets into the one depot, there has followed the perhaps inevitable occasional cross-over appearance, with Olympian branded vehicles noted on the 19/20/21 service on a few occasions.

Network Harlow livery application on the Solo fleet at TGM marches on with the latest recipients being 2457 (KE04PZF) 2458 (KE04PZG) and 2466 (KE55KTD). This brings the number of Solos remaining in Arriva livery to 3 (of 13 in the fleet), being fleet numbers 2465, 2467 and 2474.

Over at TWH, former Lothian Dennis Trident/Plaxton President W574RSG has been seen in service in all white. Also seen operating, this time in green, has been MPD X507WRG

June 2012




Centrebus livery has been applied to Marshall Dart 513 (S522KFL), reducing the remaining number in Trustline colours to 3.

Much has been discussed on industry forums and the like about about the revised First livery and branding. Optare Solo EO02NFX now carries the 'Chelmsford City' version, and has seen service on the 347.
A new entry into service at Logic Bus is blue-liveried Dennis Dart SLF/Plaxton Pointer II R745BMY.

Two new arrivals noted with Regal and seeing service locally are former Go North-East Dennis Dart SLF/ Caetano Compass's V436KGF and V437KGF, sporting former Go-North East colours at present..

Fleet-names have at last started to appear on Roadrunner vehicles. Perhaps unexpectedly, rather than the Roadrunner name, that of OlympianCoaches.co.uk is being used. At this stage the website referred to is yet to be activated. Vehicles noted with this so far are Darts P301AYJ, V749ECU, Y971TGH, V195ERG along with V194ERG which has also gained blue and white livery in the process (formerly yellow). Staying with Roadrunner, the depot at Temple Bank has now been vacated. Most of the bus fleet appears to be now located at SM's Burnt Mill depot, whilst the coach fleet would seem to be elsewhere.

At TGM application of Network Harlow logos and livery continues with Optare Solo 2453 (YJ06FXS) treated. The white Dart/Nimbus vehicles now have a logo applied, and have gained some limited front blinds.


May 2012

Another new arrival noted at Centrebus is Dennis Dart SLF/Plaxton Pointer 2 T164RMR.

The Regal fleet list has been updated. A good number of Darts, some 20 years old, have now left.

Roadrunner Mini Pointer Dart V196ERG may be in transition to fleet livery, as it now has a blue skirt but otherwise retains yellow livery.

TGM have resumed repainting of the fleet with Optare Solo's 2454 (YJ06FXT) 2456 (YJ06FXV) and 2473 (YJ56ATY) becoming the 4th, 5th and 6th out of the 13 to gain the two tone blue Network Harlow livery.


April 2012

New into service locally at Centrebus is Dennis Dart SLF/Marshall V355DLH, which is in full fleet livery.
At
TGM,
much more mixing o
f vehicle types between routes than was previously the case now takes place, but perhaps most unexpected was Nimbus HX04HUH on 724 on 14th April. Possibly a visitor, seen in service locally in April, is Dennis Dart SLF/Alexander Pointer KP54BYY in all white, joined by a returning Mini Pointer Dart 3295 (X295MBH), which is in Arriva livery.
TWH have used Dennis Dart SLF/Plaxton Pointer 2 Y264NLK, seen on the 555 on 23rd April. It is still in London livery and dual doored.
Over at Roadrunner, the other formerly red Mini Pointer Dart, BU05HDV, is now white and blue, although like the majority of the fleet, it is yet to gain any fleet-name.

March 2012




The new operation from Logic Bus started as planned on 26th March with route L3 running from Harlow to Hammond Street every 30 minutes. Vehicles seen on the first couple of days are Dennis Dart SLF/Plaxton Pointer 2ís V130GBY, V131GBY, T35KLD and W143WGT. Similar V125GBY is also believed to be owned. They remain duel-doored, and are in red livery with a blue skirt, separated by a thin white line and with LogicBus logos also in white. Traditional blinds are retained, including the one-piece number box from their London days. Fleet numbers, matching the numbers of the registration, are also carried.

At TGM, three Dennis Dart Dart SLF/Caetano Nimbus's have arrived. RX07KPJ, HX04HUH and HX04HUK are all are in all-over white livery with paper route numbers stuck inside the windscreens so far. Olympian/Alexanders F639LMJ and F640LMJ would seem to have been very short term loans - the other three double deckers remain in active service. Similarly, a number of the TGM liveried Dart/Pointers based at other TGM Essex locations are no longer evident and so are assumed to have been loans. Longer serving Dart/Pointers V231HBH and T829NMJ have not been seen in town for several weeks.

Yet more new arrivals at Roadrunner, with ex-Go-NorthEast Mini Pointer Dart V196ERG joining its' sisters and in yellow for the moment. Of the batch, V188 and V195ERG are now in white and blue. Two of last months arrivals, Y907TGH and V749ECU, which are in blue and white, have had the blue skirt extended at the front to include the grille. No fleet names are yet applied to any.
Over at Centrebus, two new Solos noted operating in Hertford are 265 (YN03ZXA) and 390 (MX03YDA).

February 2012




Still more of the former Go North-East Dennis/Plaxton Mini-Pointer Darts have arrived. Noted are V195ERG, V198ERG, V199ERG, V729DNL and V749ECU, all but the last vehicle seen operating in yellow with RoadRunner. Also joining the fleet are former London Dart SLF/Pointers Y907TGH and Y971TGH. Mini Pointer Dart BU05HDO is now in white and blue, following a period operating in all-over red. Staying with that operator, former Dublin Olympian P786SWC has been observed around town. It carries the blue and yellow of its former owner with a Roadrunner logo applied. Leaving the fleet are believed to be all of the Volvo B6/Alexander ALX200's (in fact only one remains), the two former London MAN/East Lancs single deckers, another Volvo/President and the ex-Armchair Dart SLF/Pointer II's.
At TGM Harlow, Dart SLF/Plaxton Pointer II's 401, 402 and 405 have gained typical Network Harlow branding. Two more double decks noted in service are Leyland Olympians with Alexander RL type bodies F639LMJ and R640LMJ. Both are in TGM standard livery. Also seen operating Dart SLF/Pointer KP54BYZ.

TWH have repainted Olympian/Alexander F369WSC into a double deck version of their smart blue and gold livery, making for quite a striking appearance when seen. Other vehicles noted of late on their services include Dart SLF/Pointer II R181VLA, once a regular on Imperials H1, and still on their green/cream livery, plus Optare Solo MW52PYS seen in service in all white.

At Centrebus, we have added Optare Solo's 322 (YJ10EYO) and 323 (YJ10EYP) to our fleet list. These were purchased new for Hertford local routes, but can appear across the local network now. Solo 363, mentioned as a December 2011 arrival, was in fact a loan from Stevenage and has now been returned.

Finally, Regal Dennis Dart/Alexander Dash P390LPS was seen operating in full Panther Travel blue and white livery. Note they also operate sister vehicle P392LPS in fleet livery. Additionally, noted in service Dennis Dart SLF/PLaxton Pointer II R507SJM, in NIBS livery of yellow with a red skirt.
January 2012




SM Coaches fleet livery has been extended to V191ERG.

At TGM Harlow, following the comment last month about the Volvo B6/Wright fleet, we can confirm that 3251 and 3253-6 now have the same livery as 3250 (light blue with Network Harlow logos applied) 3257 is in Network Harlow 2-tine blue.

December 2011




A further Dennis/Plaxton Mini-Pointer Dart arriving is V194ERG, bringing the total number between SM and Roadrunner to 5. It is in all-over yellow at present. Meanwhile SM Coaches fleet livery has been extended to V189ERG.

Aiding the increasing vehicle age profile at Centrebus, two recent arrivals include Optare Solo S285NRB, and former London Dart SLF/Pointer II V559JBH which looks as though the repaint has not reached above the skirt just yet.

Over at TGM, Dart/Wright R169GNW (3439), a vehicle that departed with the withdrawal of the 1/1A Sumners and Katherines service, has resurfaced. Still in all-over red, but now on other services, notably the 2 and 3. Sister vehicle R170GNW, observed at Harlow Garage, has not been seen in service again, yet at least. Also arriving and seeing service recently is Dart SLF/Pointer II SN54HXC in TGM standard white/blue/yellow. Both have manual blinds. Volvo B6/Wright 3250 (at least), retaining all-over light blue from the 2/3 branding exercise, has been treated to some Network Harlow branding.

November 2011



A small clutch of vehicles not previously seen in Harlow have shown up, as follows.
At TGM, Dennis Dart SLF/Plaxton Pointer 2 KU52RXT in all white and MAN/eVolution AE56MDY.
At Roadrunner, Dennis Dart SLF/Plaxton Mini Pointer 2 V188ERG in Go North-East all-over yellow.
At Regal, Leyland Lynx II H48NDU on the 391 (one of three such vehicles to have been purchased from Headingham).
At SM Coaches, from the same batch as the Roadrunner vehicle above, V189, 191 and 193ERG. The latter one is in fleet livery whilst the others remain in yellow for the time being.
At TWH, Volvo B10M-55/Alexander PS P851GND as well as the expected second Dart SLF/Marshall.

Departed from SM Coaches are the pair of DAF/Northern Counties Plaxton Prestiges X396/7XDA.
October 2011




TWH Dart/Marshall R621VEG has gained TWH blue and gold livery. A second similar vehicle (R619VEG) is due to join soon, and will replace the former London Dart/Pointer II mentioned below.

September 2011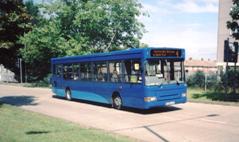 The fleet at Centrebus Harlow has been undergoing some re-modeling. We understand that the Scania/Wrights are in the process of leaving, whilst further Dart/ALX200's have and are continuing to join. Quite a number of other vehicles have been moving out in recent times too, please see the updated fleet page. Just 4 vehicles retain the old Trustline livery.

LCB Travel has placed it's first full size bus in service. Mini Pointer Dart W928PTS has become the regular vehicle on the LCB1. It is in all-over yellow with a white fleet name, and has fully functioning dot-matrix destination displays. An Iveco minibus, C14LCB, has been on new route LCB2, following the first days using a people carrier.

SM Coaches Scolarbus FD54EOO, which was delivered new in yellow, has received the private hire livery of blue and silver.

At TGM, the attempt to colour-brand routes is clearly now abandoned. Following the withdrawal of red routes 1 and 1A, all three yellow 10 branded vehicles (Dart/Ponters 401,404 and 405) have gained the smart new two-tone Network Harlow livery, being the first full size vehicles to do so. Additionally, the most recently issued Network Guide has used different colours on the route map to those used in June.

A third aged double decker has joined the fleet in the form of Volvo B10M/Northern Counties 243 (G643BPH). It carries TGM standard white/blue/yellow livery, and with no working LED when seen on the recently introduced 20 service, it rather stood out like a bit of a sore thumb.

Following the service reductions and consolidation of the garage allocation on the 724, a couple of the dedicated Mercedes Citaro's have been released. Vehicles 3908 and 3909 have been redeployed onto the Luton - Watford service 321, after losing their Green Line livery.

TWH bus and coach have been using Dart/Marshall R621VEG in service. The vehicle is presently in full Ensignbus colours.

August 2011

A third Dart/ALX200 to join the local Centrebus fleet is LX51FHE.

New arrivals at Roadrunner are Dennis Dart SLF/Plaxton Pointers P758FOD, P301AYJ and P324EFL. All seen in service in corporate colours.

At TWH, the smart blue and gold livery has returned, this time on Dart/UVG Urbanstar R83GNW, which has also gained some branding and a fixed route display for the X5. Meanwhile, going the other way, part open-top Olympian G551VVB has gained a red-based livery for sightseeing work in London. Noted in service on the 555 has been former London Dart SLF/Pointer II R447LGH, still in red.


July 2011




The main news is that recently established Lea Valley Buses went into administration, with routes and vehicles transferred out. The six Volvo B6's/ALX200's would seem to have moved quickly to Roadrunner, together with the 255 (Brookfield Centre to Loughton via Waltham Cross). Because the 255 only requires 4 buses, appearances of these buses, which are branded for either the 255 or 555, on Roadrunner services 511 and R1, have been frequent. The 555 has moved back to TWH, where a one-bus reduced route is in operation. TWH's own vehicles have been used for this.

At TGM, we can confirm the departure of the route 4 (green) liveried Dart SLF's, typically now replaced by former route 10 (Arriva liveried) vehicles.
MAN/MCV Evolution AE55VGK joins it's sister (see below) and is also in all white and frequently on the 392. Finally, whether a visitor or not, Transbus Enviro 300 KV03ZGK is another white bus seen in service on the 392.

At Centrebus, a second Dart/ALX200 has arrived, this time Y254FJN.

Roadrunners' Volvo/Presidents, according to the promotional materials the normal vehicles for the 511, have a third (out of 4) now in corporate colours. Only one (W473BCW) remains in red.

June 2011





The changes to the network at TGM have brought with them some vehicle changes too. Most unexpected is the entry into service of two white double deckers. Elderly and dated step-entrance Scania/East Lancs M161GRY and M162GRY have been regulars on the 1 and 1A.

The take up of the 392, which could quite easily have been accommodated with native vehicles rendered surplus by the changes, was initiated with MAN/MCV Evolution AE55VGL in all white and Dennis Dart SLF/Caetano Compass HX51LRJ in TGM standard blue/yellow/white livery. The vehicles have seen service on other routes since.

Most bizarre perhaps, is the removal of all of the quite recently applied route branding, even where the service wasn't changed (such as the 10). Is this to make way for an updated version? Not all of the branded vehicles have been seen in service at all since the changes.

Further vehicles into Network Harlow livery are Solo 2459 and 2460 (KE54OSU/V)

Dennis Dart/Alexander Dash vehicle P103HNH (which was red and with dedicated 555 route details), once with Hunny, used by LVB after the separation, has resurfaced recently in all-over white with Roadrunner, seen on the R1. A second of the ex-London United Volvo/Presidents to receive corporate colours is W468BCW (joining W462BCW). Both have been operating the R1 during June.

The new network

The new Network Harlow network was launched on 13th June, and represented some significant departures from the a pattern of services that has been in place for more than 30 years in some cases. Some moves are quite innovative, and others will evidently not be so well received. Looking at the positives first:

The services to Sumners and Katherines (1/1A) are separated from one another, giving residents of one area the ability to get to and from town without the need to take a tour of the other (although they could have done this to a degree before by selecting the right bus at certain times).

The Staple Tye circle (2/3) has been redrawn and is now a one way loop (3), meaning that passengers will no longer need to dash across the road if they see the other bus coming. It will mean that the whole service is perceived as more frequent whilst less vehicles are required to provide it.

Sumners Farm gains a vast improvement in service. From what was really a shopping hours hourly link to town, it now has a mostly half-hourly service including a morning peak, and connections to the station, hospital, and Pinnacles.

Edinburgh Way Tesco advances from no service at all on Mondays to Saturdays to every 20 minutes between the peaks.

Residents of Three Horseshoes Road will have a slightly broader coverage in terms of hours with the 505 rather than the previous 7.

On the other hand:-

Given that there is almost no difference in timetabled journey time between peak and off-peak over the common section of route 8, it's a pity that the opportunity wasn't taken to standardise the service and have a peak extension to Tesco as well. Tesco is situated well for walking to many parts of Templefields industrial area in a matter of minutes.

The diversion of the 8 away from Maddox Road (Netteswell) and Momples Road (Mark Hall South) has left both with a poorer service. In the case of the former it's the loss of the link to The Stow and Old Harlow. Many of the elderly residents in the area choose these less busy but still popular locations, which also have health centres and the like, over Harlow town centre, as a place to visit. In the case of the latter, the replacement 7/7A is viewed as a poor substitute.

The long standing links from the South and South East of Harlow to Pinnacles (4) have been lost. Doubtless the number of passengers was quite low. More concerning is the loss of link to the station.

The most unfortunate aspect of the changes is that there is now an almost totally separate evening network, as well as a separate Sunday network. Whilst it's been sensible to renumber the old services to similar but different numbers (1B/3A/6A/8A) no doubt to try to reduce confusion on the road, it does make the whole network more difficult to understand, and whilst the industry and enthusiast movement know how this arises, the public will be mystified. A real pity that some joined up thinking was not employed here. Let's hope some sense prevails in the not too distant future.


May 2011




Network Harlow has at last gained a livery. Optare Solo YJ06FXU has appeared in two-tone blue with a red oval containing the local fleet-name. Ironically this was the only inter-urban liveried vehicle previously in the fleet. We will follow developments closely to see whether this livery will be confined to town routes, or whether the 59, 505 and 510 receive similar treatment.

A bit of a change in the fleet profile of Lea Valley Buses is underway. The inherited fleet is in the process of being replaced by one comprised of Volvo B6LE's with ALX200 bodies. They are gradually entering service now, initially in all-white, branding for both the 255 and 555 has since been noted. Pleasee see the LVB page for details. Mercedes Vario R187DNM has moved to SM Coaches, whilst the Dart SLF/Pointer II's, will be return to the Roadrunner fleet. Given this expected influx, it was perhaps surprising to record the arrival of Dart/Pointer Y862TGH, seen in service on the 392 in all-over white.

The C3/C3X changes at Centrebus have seen the two dedicated C3X Solos (396 and 397) disappear, but a replacement in the form of Dart SLF/Alexander ALX200 HJZ9929 arrive.

Whilst we're setting up the HarlowRide flickr site, we'd like to suggest a very good source of high quality images to view, focused on Harlow. http://www.flickr.com/photos/keith-v/sets/72157625377116949/


April 2011




SM coaches continue to surprise with their choice of purchases. Two Mercedes Vario/Plaxton Beaver 2's, R112GNW and R450PRH, having been noted in service.

At LVB, joining the vehicle mentioned last month is sister RDZ1711.

FOTOPIC SITE
On this site we have always published pictures of the recently bygone Harlow scene on a fotopic site. It is now evident that fotopic has disappeared and so the images that were stored there will need to be progressively recreated. This will be done at flickr.com but it will take some to complete. Whilst this is in progress, we regret that many images will not be available. We hope to recover the situation progressively in the coming weeks and months.

March 2011




Following the comments last month on LVB & TWH, the two fleets have now been separated on this site. A further acquisition from Roadrunner is Scania/Wright RDZ1709.

Over at Roadrunner, two new arrivals are Dennis Dart SLF/Alexander Pointers BU05HDO and BU05HDV. These are in all-over red and intended for Bishops Stortford area route 7 between Bishops Stortford, Elsenham and Stansted Village, once part of the ECC village-link branded services.

A new acquisition at Regal is MAN14.240/Alexander Dennis Enviro 200, registration EU10OJE

February 2011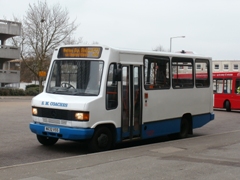 The main news this month is at TWH. Firstly the X5 has been launched, restoring the link between Harlow and Romford. Volvo/Plaxton Expressliner has been a regular performer, but in true TWH style variety has been as extreme as the striking pink Bingo bus liveried Mini Pointer Dart on the first day, and hired Ensignbus Olympian S124RLE just days later. Assuming the service is successful, we are informed that open-top double decks are likely to feature in the summer.

At the same stable, recently re-launched "network 55" routes 255/355/555 along with the company name Gemma Smith Ltd and a number of the vehicles were sold off, and are expected to re-emerge as Lea Valley Buses under their new management. They will be shown here together until we can establish exactly which vehicles are with whom. A total of four former SM or Roadrunner Dart SLFs would seem to be part of the new regime,
P684RWU and R479LGH joining the two vehicles noted last month. Other regulars include the Vario and Dart/Alexander Dash P103HNH, and members of the Roadrunner fleet of Volvo/Presidents. A good number of vehicles have yet to appear with either operator in service, and a number have been returned off hire or sold including the Routemasters, BMC Falcons ad former London Trident. On the routes front, the 355 barely got going before difficulties in gaining access to Waltham Cross Bus Station led to a very early demise. The 255 and 555 continue.

The service reductions of 7th February have meant that a number of recently operational vehicles are no longer being seen in service with Arriva/TGM. These included the Mini Pointer Darts 3295 and 3483, and all of the white-based vehicles, including Dart SLF Pointer II's, East Lancs Europeans and the solitary white Solo 2511 (although 3483 was later seen having returned). The identity to be used for those vehicles which are not in one of the Network Harlow town route colours seems less than clear. Whilst most Solos have had their Arriva fleet names removed, Volvo/Wright 3874 has recently had a rear all over advert changed, and the new easyjet advert has the word added within it! Of late a couple of elderly double deckers have been seen at the depot in relation to a contract service. F640LMJ is a Leyland Olympian with Alexander bodywork, M162GRY is a Scania with East Lancs "Alexander lookalike" bodywork. In days of old these would see occasional town service, but this has not happened so far.

You can never predict what the next arrival will be at SM. Just when it seemed that the last of the old step-entrance minibuses had finally disappeared, vintage Mercedes L709D with Alexandra Sprint bodywork N632VSS arrives. Fleet livery carried and it is most often to be found on the 524 so far.

Another not-so-new arrival at Centrebus is step-Dart/Pointer M821RCP.


January 2011




A sign of change with from TGM management of the Harlow operation is a change in the type of fleet numbers used. The recently residented Darts on the 4 and the 10, S301-5JUA, carry fleet numbers 401 to 405, a departure from the Arriva 3xxx series. A rather surprising repaint, given the progressive change that is underway is that of Optare Solo 2455 (YJ06FXU), which has emerged in Arriva inter-urban livery. Arriva cool bus would seem to have moved on, meaning that the Harlow fleet is now all low-floor, with just one exception, being Dart 3414 (P334HVX).

At Centrebus, Lance/Pathfinder 268 is reported as being stripped, as is Scania/Pathfinder RDZ1714 at Roadrunner.

Another two Optare Solos are reported as having entered service with Regal, and registered YJ60KHA and KHB. A third, KHC, is on the way.

Just outside our area, TGM Stansted came to the rescue when First gave up on the Stansted Airport to Colchester X22 (previously 222, and operated long before as an unnumbered service). So far Scania/Berkhoff Axiel YN54ANL has been reported in service.

Some expansion in the fleet has taken place at TWH, coincident with the expansion of the 555 into three routes. The new arrivals all have a local history, with former Arriva Shires & Essex Mercedes Vario R187DNM, and Dart SLF/Pointer IIs P677RWU & P684RWU, until very recently with SM Coaches. The Vario is in all over white, whilst the Darts have had the blue skirt replaced with red.

Please note that this is an unofficial site, and whilst every effort has been made to ensure the information is accurate and up to date, no claims can be entertained for losses caused by any errors or omissions here, or through any shortcomings on the part of the operators themselves. We would be grateful if any errors could be notified to us, in order that we can make a prompt correction. Any suggestions, comments or other forms of feedback are most welcome. This site acknowledges the support provided by local operators, but is not directly linked with any operator.


[Top of Page] | [HarlowRide Main Index]