Old news
2019 and 2020
2017 and 2018
2015 and 2016
2013 and 2014
2011 and 2012
2007 and 2008
2004 to 2006
2001 to 2003

Semi-regular news updates which would be of interest to the enthusiast have been provided on this site since 2001. This page contains the updates published between 2009 and 2010 inclusive. It should be read in conjunction with the route change history page.

Review of the year 2010
Despite deregulation having taken place almost a quarter of a century ago, and the recession of the last couple of years leading to frugality and market down-turns in general, 2010 has been the year which has seen the most intensive competition in the town so far. In terms of numbers of departures from the Bus Station, more services were run than since 1986 at least.

SM/Roadrunner re-doubled their offensive, providing competition on almost every major corridor, not only to Arriva, but also to Centrebus and indirectly to TWH. TWH moved their commercial competition, away from Epping & North Weald to the 505/250 corridor. Centrebus retaliated with a bolster to the Lea Valley services and a strike back to Ware and Hertford. In-town battles between SM/Roadrunner and Arriva were as intensive as ever. The biggest reaction, no doubt in an effort to end 25 years of competition, was by Arriva. The Harlow operation was transferred to TGM, and an 'overground' type network launched with a major rebranding effort initiated under the 'Network Harlow' brand name. Some significant frequency increases were implemented. Then there was a return by Arriva/TGM to Sumners & Katherines, a part of town that has been left to independents in most of recent history, in what seems to have been an attempt to provide a role for them, and thereby reduce what was presumably seen as otherwise wasteful competition. SM/Roadrunner initiated route branding, some glossy printed timetables, a since-discontinued facebook page, as well as the Townlink name. Fares fell too, with Epping becoming part of Harlow for fares and passes purposes for both operators, and town fares reducing significantly.

This unsustainable and intensive period of competition seems at last to be ending with significant de-registrations and changes of services booked for the December 2010 to February 2011 period, and the outcome seems to be that some dividing up is taking place, as it did in 2006.

On the contracted services front, Regal have largely cleaned-up, gaining schools, rural, and Sunday services, rather in the way that LocalLink did some years back.

Looking to the fleets, the expansion at SM/Roadrunner was matched with vehicle increases, and some characteristically interesting choices made, including 7 former London Scania/Wright Pathfinder early low floor buses, more Irisbus Agoralines, 4 ex-London Presidents, DAF/Plaxton Prestige's, and East Lancs Mylleniums. All were very well turned out and in fleet livery (forgiving some yellow base colours on some AgoraLines). Quite how many/much of this will remain following the forthcoming contraction remains to be seen, but many must surely go.

At Arriva, the TGM link has started to be established, with 'Burton group livery' vehicles appearing in number, and exchanges of vehicles between Colchecter, Excel, and Harlow being quite frequent. The key change taking place is the emergence of the local colour routes. Not a stripe or band or list of places served above the window line, but a 100% full single colour repaint! Doing this always presents two problems, being what colour should the spares be, and how do you maintain the brand family. Allocation of route to vehicle discipline seems good so far.

TWH settled on a livery, all red, this being applied almost overnight for the launch of the 555. Centrebus livery continues to march on, aided by the investment of a fleet of new Solars, but Trustybus colours remain to be seen on some vehicles. Regal have initiated a new more contemporary livery, which attracts mixed response from commentators. Your writer is in favour, even though it may mean that passengers may struggle to distinguish between TWH, Regal, and Network Harlow Red Route 1 vehicles. The Excel name has vanished from the town in 2010, whilst LCB and First continue with a small presence.

Two operator names that were eliminated from the Harlow scene in 2010; Myalls, who lost the Saturday only 5/354 contract, and Excel, who besides losing their contracts, also will in future be known as TGM Stansted.

On the routes front, to see the impact of the competitive era, Epping has enjoyed 8 buses an hour for most of the day, and the Lea Valley corridor to Waltham Cross up to 5, a corridor which not so long ago had only an hourly Saturday service and nothing more from Harlow. Hertford and Ware too have 3 at present, against a long-standing 1, and even the 505 corridor has 2, which looks set to increase to 3 when just post deregulation it was a supported service. At the other end of the scale Templefields for the first time has no service to speak of, and the new Harlow Business Park remains a significant untapped opportunity, as do links to Epping from the west side of town. Another gap is any link to South East of Harlow and East London, although the forthcoming X5 might well bridge this to a degree, and we wish it well.


December 2010




At Arriva, Dart SLF/Pointer S302JUA has joined sister S302 in receiving lime green livery, and both now have branding for Route 4. Meanwhile, confirming the new colours of the network map (rather than the original timetable colours), S301/4 & 5JUA have received all-over yellow livery and branding for Route 10. This means that, after that service being largely in the hands of the same vehicles (3230/1) for more than 10 years, they have now been replaced, by marginally older vehicles. 3230, along with 3229, which had often been the additional vehicle required on the 10, have re-emerged in Arriva inter-urban livery.

Over at TWH, Dennis Dart MPD SJ53AXB has been gained pink Mecca Bingo branding including window contravision. A similar livery was previously carried by Dart/UVG Urbanstar R83GNW, which is now in red.

November 2010




The 1st November saw a new phase in the continuingly turbulent and competitive Harlow bus scene. Details have emerged of the full branding colours for Network Harlow. These at first would seem to have been as below:-

Route 1/1A (Sumners & Katherines) - Red
Routes 2 & 3 (Staple Tye circular) - Blue
Route 4 (Latton Bush) - Green
Route 6 (Brays Grove & Potter Street) - Yellow
Route 7 - (Churchgate Street & Sumners Farm) - Grey
Route 8 - (Mark Hall South & Old Harlow circular) - Purple
Route 10 - (Church Langley) - Pink.

Since timetables were printed, the network map on the harlowbus website shows 6 as pink, 8 a purple and 10 as yellow!

Of greater significance is the more dominant presence being shown with frequency increases on the 1/1A, 2/3, 4, 6 and 10. The 6 increases the most from half hourly to every 10 minutes over the Bus Station to Brays Grove section, and with an added extension at this frequency to Potter Street.

On the vehicle front, it's evident that the new TGM ties will bring some degree of flexibility of vehicles between Harlow and Colchester. Seen in service on 3rd was Dart SLF/Pointer II SN54HXA in Network Colchester livery. Another new arrival, in Arriva standard livery is similar vehicle P180SRO.

A further four of the Volvo B6/Wright crusaders have emerged in blue route 2/3 livery with 3253/4/5/6 joining 3250/1. The very first lime green liveried vehicle has emerged. It is Dart SLF/Pointer S303JUA. This is presumably destined for route 4, but as yet is unbranded. Sister vehicles S310/1/2/3JUA from the same batch have all seen service in the town.

Plain white Optare Solo CE52UWW has appeared and seen service on a number of routes. We are not certain whether this is permanent. All other Solo's
operating in the town were bought new to Harlow.

SM Coaches would seem to have retracted a little, with a frequency reduction on the 14, and on the Ongar section of the 20, and withdrawal of links to the industrial parks. Vehicles wise, a sixth Irisbus Agoraline has arrived. SN06AFK is all white at present.

Regal Busways has completed the trio of new Solos. YJ60KBY & YJ60KBZ have joined the example mentioned last month.

At Roadrunner, Dart SLF/Marshall P809OYS has been noted being stripped, and so is removed from the fleet list.

At Centrebus, a not-so-new arrival joining the Solo's is duel-door Dart/Pointer L712JUD.

The rebirth of the VR turned out to be short-lived, with the departure of the sole example, PWY39W, from the TWH fleet

October 2010




Brand new Optare Solo's now feature in the Centrebus Harlow fleet. YJ60LRA and LRE, as fleet numbers 396 and 397, have entered service

Regal Busways also ordered new Optare Solo SE's to support their recent ECC tendering successes. YJ60KBX has seen service in the town.

RoadRunner have out-shopped one of their Presidents in fleet colours. W462BCW is now in all-over white with a blue skirt. The only fleet name carried when first sighted was the TownLink one. These double deckers have ventured out onto SM's 19/20 service on occasions of late. Another arrival is a further Scania N113/Wright Pathfinder from the same former London Buses batch. RDZ1707 brings the fleet total up to 7

SM Coaches have got another ex-Norse Irisbus Agoraline, this time being AU05FKC, and bringing the fleet total to 5.


September 2010




The Network Harlow branding has reached the second phase with Volvo/Wright 3250 (V250HBH) appearing in all-over blue, promoting blue route 2 for Staple Tye early in the month. Interestingly there is no mention of similar reverse-direction service 3. This seems to have been corrected on 3251 (V251HBH) which has appeared mid-month in similar livery, but with routes 2 and 3 both featuring. Also noteworthy is that route 4 has until been the blue route, with at least a couple of vehicles from the same batch still carrying that branding. Drivers are now wearing new uniforms, with yellow and blue shirts replacing white and aquamarine.

For many years, Waltham Cross and Loughton/Debden services 250 and Hammond Street to Upshire service 251 have been managed as Harlow operations, even though in the earlier days buses were outstationed at Debden. This changed from 4th September, when they became the responsibility of Arriva Shires and Essex operations at Ware. Included in the departures out, perhaps surprisingly for a vehicle that has spent much of the last 5 years or more on the 505, is the last Wright-bodied Dart, 3366.

Roadrunner took over route 392 (and odd morning 14 journey) from TWH staring 1st September. Early operations were with ex-Transdev (formerly London United) Volvo/Plaxton Presidents, four of which have been acquired - W461/2/8/73BCW. These are in all-over red, seem to have been smartly refurbished inside, and fitted with front LEDs. We don't know if these will be the permanent allocation, and in fact the first Saturday evidenced MAN/EL Myllenium's working.

The remaining TWH operations are in the form of an expanded route 555. There has been a frequency increase, all vehicles are now in all-over red, and there are some fleet changes. Scania N113/Northern Counties H465GVM is a double deck new arrival. Some single decks have been observed to be carrying permanent displays over the blind box, including Dart/Caetana R83 GNM, which has lost its previous hideous pink livery, and another new arrival, Dart/Alexandra Dash P103HNH.

LCB travel have placed a bus (rather than a people carrier) onto the Milwards service in the form of Optare Alero YN04XZR. Given that this service has recently been introduced commercially on Saturdays, and that the bus has a blind, this appears to reflect some desire to evolve the route.

August 2010



The developments at SM and RoadRunner continue at a pace. The 16th August seeing significant route improvements. The latest observations include numbers for the SM fleet, glossy printed timetables, adoption of the Townlink name for the services of both, and some modest route colour schemes and associated vehicle branding.

The size of the fleet of Scania N113CRL/Wright Pathfinders has now reached six, the two additions being RDZ1709 and 1712. They would seem destined to be the mainstay of the R3 service and are branded RoadRunner. Four have been noted with route branding.

The 16th August also saw a very significant development and change of direction for Arriva. All of the Harlow-based services now come under the management of TGM, who will use the brand Network Harlow. The first incarnation of this, and some further evidence of a retaliatory move back against the competitors, is the re-launch of a high-frequency Sumners/Katherines service. Darts/Wright Crusaders 3417, 3439 and 3440 have been given all-over red and appropriate branding for the purpose. Arriva logo's would seem to have been removed from some of the Solos in the Harlow fleet, and a website, www.harlowbus.com, would seem has been launched, principally at this time detailing new Red Route 1.

Regal started their new Sunday services using 3 Optare Solo M710s, YJ06YSK, YJ56AOU & newer fleet addition YJ58CDF. The following day, their weekday local services commenced with MPD 601 (YN04PZZ) and on the 381 group, Dart/Pointer N424MBW on the 391 & Dart SLF/Pointer 2 R510SJM on 47.

July 2010




The closer ties between TGM, parent of Excel, and Arriva, are beginning to make themselves known. A number of white blue and yellow have been sighted on Harlow-based Arriva services of late, including Dart/Pointer S312JUA and Scania/East Lancs N430XRC, N169PUT and N176PUT, all of which have seen service at Excel.

The latest ECC tender results will see Regal Busways return to the area in a significant way from the end of August. The contracts for school-day 322 and weekday rural services 47/146/147 have been taken over from Excel, meanwhile Arriva is the loser of weekday 381/2 and 391, and Sunday 4/10/11/12, again all to Regal. The contracts are stated as being for 7 years. The 381 was of course where it all stated for Regal. How fortunes have changed for them since then! A small quirk of this change is that the appearance of Ware-based vehicles on the Sunday network should end.

Over at RoadRunner, four former London Buses Scania N113CRL/Wright Pathfinders have been noted, being RDZ1708, 1710, 1711 and 1714. Another arrival is an additional Dennis Dart SLF/Marshall capital P809OYS.

Another arrival to see service with TWH is Dennis Dart SLF/Plaxton Pointer S609HGD, seen on the 392.

The blind box on a recent arrival at Centrebus gives away the London origin of step entrance Dart/Pointer XIL6081, even if the registration number doesn't.

June 2010




SM Coaches fleet of full-size single decks had expanded with some more less than every day vehicles. DAFSB220/Northern Counties Prestige R396 and R397XDA are the first for SM, but were of course the mainstay on Arriva's 724 for some years. Joining then are Irisbus AgoraLines OY53 RDU, RDX, RFE which have until now operated a Park & Ride service in Norwich.

More new material sighted in service with TWH includes NIL9875 (J814HMC), a Scania N113DRB/Alexander RH which is on loan. Also noted is Dennis Dart/Alexander Dash P103HNH in Stagecoach livery. The two B10M-55's noted below, we are advised are loans. Meanwhile, Olympian G551VBB is being converted to half open top.

May 2010
TWH have placed two "new" arrivals into service on the 555 in the form of Volvo B10M-55 / Northern Counties M547SPY and M550SPY. Both are still in Stagecoach livery.

April 2010

April saw the second attempt in recent years at a high-frequency competitive service being launched along the 4 corridor to Tye Green, Bush Fair and Latton Bush. It's from the SM/Olympian stable, re-using (after an absence) the Road Runner brand. The M4 is essentially a repeat of the earlier R4 which used the same branding. The 10 minute frequency competes well with Arriva's 12 minute daytime frequency. Vehicles noted so far are as follows:

RX53LFH - MAN 14.220/ East Lancs Myllennium (Roadrunner livery)
RX53LNH - MAN 14.220/ East Lancs Myllennium (Roadrunner livery)
R477LGH - Dennis Dart SLF/Plaxton Pointers (red livery)
R479LGH - Dennis Dart SLF/Plaxton Pointers (Roadrunner livery)
T408AGP - Dennis Dart SLF/Marshall Capital C39s (red livery)
T418AGP - Dennis Dart SLF/Marshall Capital C39s (Roadrunner livery)

Staying at SM Coaches, three vehicles have gained branding for new service 18, and so presumably will be the regular vehicles on the service. These are new arrival DAF SB220/Northern Counties Prestige R396XDA, together with existing fleet vehicles Irisbus Agora Line/Irisbus EU06KHK and Dennis Dart SLF/Plaxton Pointer R481LGH.

Over at Arriva, step-entrance Dennis Dart/Marshall 3833 (M503VJO) has arrived, not too long after sister vehicle 3834 departed. Additionally, Volvo B10B-58/Plaxton Verde N624FJO joins the similar arrival last month.

Centrebus have expanded a little, having secured some local contract routes in the Herford area. To facilitate this two Optare Solos, YJ10EYO & EYP, have been acquired.

At TWH Scania Omnilink demonstrator YN08HXZ has been observed, but not yet in service.


March 2010

A few very unexpected arrivals in Harlow this months:-

Firstly at Arriva, moved in from High Wycombe, rather tired Volvo B10B-58/Plaxton Verde N622FJO. The vehicle, which is not low floor, has seen service on the 510, as well as on the 500. Whilst at Arriva, route 59 has been something of a premium operation for a few years, but unusually Dart 3828 (KE03 UKK) was sighted on the route on 15th March.

Moving next to TWH where there is now a Bristol VR. PWY39W has been seen in service on the 55. Also sighted in plain white on the 392 is Dart SLF/Pointer KP54BYK.

Over at SM, a most unusual arrival is of MAN/East Lancs Myllennium RX53LFH.

February 2010

The Centrebus fleet name and livery is spreading fast. Dennis Lance 267, a relatively recent arrival and carrier of the latest Trustybus colours, being one example.

Excel have used all-white Dennis Dart SLF/Plaxton Pointer II KU52RXT in service on the 47. Whether it it owned or loaned is not known. Believed acquired is Dart/Pointer M722CGO. This carries Burton group livery and fleet number 802.

At TWH, another ex-Lothian Olympian with Alexander RH bodywork has been seen on the 55, this time F369WSC.


January 2010




At Arriva, the last of the original batch of Darts, Plaxton Pointers then numbered DPL406-414, more recently 3356-64, has ceased service. One of the two ex-Wests Wright Handybuses has been awaiting repair long enough to suggest it it also now finished. The number of step-entrance vehicles remaining at Harlow is now in single figures.

Further new intake from within group at Excel include Dennis Dart SLF/Plaxon Pointer 2 S310JUA, and less usual Scania L113/East Lancs European single deck.

SM Coaches have increased the fleet in readiness for the expansion of the 19, expected to start on 18th January. Four ex-London General Dart SLF/Pointer IIs, understood to be P741RYL and R476 / 481 / 485LGH and Dennis Dart/East Lancs M223AKB are the new additions.

The main news of the month is the reintroduction (actually late in December 2009) of TWH's 55 service. The service was first introduced as a competitor to the H1 in 2008, only to face a vigorous response from Imperial. After surviving that battle and finding themselves with the corridor to themselves, Imperial subsequently gave up the ghost. The revised 55 picks up the challenge; we understand that the two BMC falcons that initiated the 392 will be the regular vehicles, but in the early days, something of a more traditional feel was apparent, with the appearance of a Routemaster and a Metrobus.

Staying with TWH, two Mini Pointer Darts have been acquired, and have taken over as the mainstay of the 392. Other recent sightings include Dennis Dart/UVG UrbanStar R83GNW in an all over advertising livery for Mecca Bingo, including contravision on most windows and based on a bubble-gum pink base. On the 55, Dennis Trident/ALX400 KN52NDY, in more conventional London red.

A major upgrade is apparent on the Trustybus C3. No less than four brand new Scania/Wright Solars are ordered, with two kicking off the new timetable on 4th January. Not only is the latest Centrebus livery carried, but the fleet-name is also changed, to Centrebus Value. Will the Trustybus name survive 2010?


1st November 2009




A transfer from within Arriva Shires and Essex has seen former Sovereign Volvo B6BLE/Wright Crusader R606WMJ join the Harlow fleet.

Just up the road at Sawbridgeworth, local services SW1 and SW2 ran for the last time yesterday. Introduced (with SW3) 7 years ago, they have been one of relatively few examples of services in the former London Country area operated by Optare Alero's, although they would seem to have been stood down here a short while back. They did also operate local route 6 at times.

At SM Coaches, two more Dennis Dart/Alexander Dash vehicles have joined the example mentioned last month. The new arrivals are from the same batch, being N602KGF and N606KGF.

TWH have provided a little more variety on the 392. Volvo B10M/Plaxton Expressliner S51UBO would have added a bit of luxury, even if at the expense of the low floor.

1st October 2009





A lot of the loans that found their way to Excel have now returned, but Mini Pointer Dart KU52RXF, once having operated at Trustybus, is in all white and operational. Meanwhile, appearing in the Burton livery that adds a yellow band above the blue skirt and white that is otherwise Excels normal livery, is larger Dart SLF/Pointer II AY54FRC.

Over at the new local First operation, just as in Stansted Transit days, larger vehicles have been used on the 347. Dart SLF/Pointer II 40734 (P627WSU) is an example.




LCB Travel have given that Mercedes people carrier a bit of a make-over with eye-catching pink branding and a Zip (fastener) logo.

Just when a pattern emerges at SM Coaches something surprising happens. After a run of modern vehicles, high-floor Dennis Dart/Alexander Dash N607KGF arrives. In livery, and with manual blinds, for now at least.




Last month I mentioned the arrival at Trustybus of a Centrebus liveried Optare Solo. It has now appeared on the C3, bringing a different livery to the town. Ex-London General Darts R462LGH and R484LGH are reported to be destined for Harlow, in Centrebus livery, but with Trustybus fleet-names, for the time being.

Finally, TWH Bus & Coach offered something on the 392 that passengers will not have seen in a very long time - a top deck. Olympians J847TSC, with Alexander RH bodywork, and G551VBB with Northern Counties, have both been sighted in service.

September 2009




The route 510 dedicated Volvo/Wrights at Arriva are having their rear route branding replaced by super rear adverts. Appropriately airlines are featured on two.

LCB Travel have commenced operation of the ZIP1 Milwards service, using exactly the same vehicle that Arriva used before. Livery and branding is unchanged save for the addition of a new fleet name on the bonnet.

Major ownership news is that the Trustybus operation has been taken over by Centrebus. At this time actual operations are unchanged and the fleet-name and colours remain as before. One Optare Solo has been drafted in, presumably for Bishops Stortford area Village link 7, which was in any case won by Centrebus under recent ECC tender. It will operate from the Riverway site.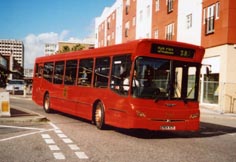 SM Coaches have had a need to press into service some less that usual vehicles of late. The 19 (Harlow to Epping) service has seen coaches from the Olympian fleet, whilst the M1/31 has seen lots of minibuses including the three remaining operational Iveco/Marshalls and Mercedes/Dormobile L192MAU in full Olympian livery.

TWH Bus & Coach have commenced operation of the 392. The two regular vehicles are rare BMC Falcon 1100's registered CN04XCK/L. Livery this time is red-based, still with gold fleet-name and some limited branding. Conventional blinds with the National Railways logo used for the Harlow destination are featured.


July/August 2009



Six years and seven months after last serving Harlow, First have returned with the take up of route 347, being the permanent successor to Stansted Transit on that route following a short spell with Excel.

The other Stansted Transit service, the 392, has seen a considerable variety of vehicle types whilst under Excel. Please follow the link to the fotopic site for pictures. The service has now been awarded to TWH Bus & Coach from September. Talking of TWH, a little variety has been offered on the North Weald Flyer lately, with half open-top Metrobus M443 and Mercedes/Plaxton Cheetah KE05KXX both appearing (see pictures on TWH page). The service is due to disappear in September.

Another interesting award from the recent ECC tenders round is that for the ZIP1. New bus route operator LCB Travel will take over. We don't know what will be used, but the above Mercedes is in the fleet, and has personalised registration C10LCB.

June 2009
Quite suddenly, on 4th June, Stansted Transit ceased training. As far as Harlow is concerned, they operated the twice a day 347 with an enormous variety of vehicle types. The main service though was the hourly 392 operated with two vehicles since March 2007, mainly new Alexander-Dennis Enviro 200 Darts. A number of services were operated at nearby Bishops Stortford or Stansted Airport including the successful ECC supported Village Link services 5 and 7. For now most services have been transferred to Excel on short-term contracts, and a number of hired vehicles are to be seen. Stansted Transit had not been successful in the most recent round of ECC tender awards, and a number of losses would have in any case taken place.

Over at Trustybus, the Dart/East Lancs Spryte has been out-shopped in the latest livery.


April 2009
Local media reports that one of Olympian's Coaches caught fire on the A414 between Harlow and Hertfort whilst on a schools service. It would appear to have been an engine fire, but the whole vehicle is clearly gutted and doubtless a write-off. The coach was S342SET, one of the two Scania/Irizar Century vehicles. No one was harmed. By a piece of bad fortune, the news story in the Herald was placed right next an advert for the London commuter services.

25th March 2009

Local enthusiasts might be interested in an all-RT operation being mounted by London Bus Company (The bit of Blue Triangle that wasn't sold to Go-Ahead) and Ensignbus. On Easter Sunday 12th April and Bank Holiday Monday 13th April the following routes will operate.

175A Romford to Ongar via Passingford Bridge, hourly.
247 Romford to Brentwood via Gidea Park, every 30 mins
339 Brentwood to Epping via Ongar, hourly.

For full details, visit www.lots.org.uk




TWH Bus and Coach added to the variety mentioned below with an appearance by ex-Lothian Leyland Olympian/Alexander RH J847TSC.




Trustybus now have their ex-County Bus low-floor Dennis Lances in service in new livery. Also arrived is Dart SLF/East Lancs Spryte P131PPV.

Dr Matthew Bradley
The author of this site wishes to pay tribute to Dr Matthew Bradley, who died recently at the untimely age of 41. In recent years Matthew worked in a number of areas of the industry, but it was during his role as Arriva Shires & Essex Marketing Manager in the late 90's that he chose to sponsor the original setting up of this site, which at that time was the only source of all-operator bus travel information on-line covering Harlow. Today similar sources are many, father reaching, and greater in sophistication, but at the time it was an innovation. If he brought similar initiative to a even a fraction of his other roles, his legacy will be broad.

March 2009




Firstly, catching up on events at TWH Bus and Coach. The 55 service gave way to the lower key, as far as Harlow is concerned at least, North Weald Flyer, last month. It didn't go out without some additional variety being added to the scene though, in the form of 20 year old LT red Dennis Dart/Duple Dartline G501VYE and all-white Tranbus/Caetana Enigma coach FJ53VDN.

Another red bus seen in Harlow recently, and one which passengers could easily be forgiven for thinking is a Trustybus is Regal Busways Dennis Dart/Northern Counties Paladin L110HHV.

January/February 2009
Arriva. Since the last update, the number of Dart/Wright Crusaders operating at Harlow has increased from 2 to 6. Fleet numbers 3417, 3418, (P417/8HVX) 3435 and 3440 (R165/170GNW) being the new arrivals. Departing would seem to be the variously bodied collection of B6's. Other arrivals include two Mini Pointer Darts transferred from within the Shires and Essex fleets; 3483 (W483YGS) and 3828 (KE03UKK).

SM Coaches have added a new vehicle type to the current fleet in the form of Dart SLF/Caetano Nimbus. Two examples, KU02YBD and KU02YBF are now in service.

Over at Trustybus gone are all four Optare Excels, plus Dart/Pointer 63. Interesting new arrivals are local early low-floor Lances M267/8VPU. Ex-London all Leyland Olympian C77CHM has been on hire from Stephensons for use on rail replacement work.




Please note that this is an unofficial site, and whilst every effort has been made to ensure the information is accurate and up to date, no claims can be entertained for losses caused by any errors or omissions here, or through any shortcomings on the part of the operators themselves. We would be grateful if any errors could be notified to us, in order that we can make a prompt correction. Any suggestions, comments or other forms of feedback are most welcome. This site acknowledges the support provided by local operators, but is not directly linked with any operator.


[Top of Page] | [HarlowRide Main Index]