QUICK LINKS

Old news
2017 and 2018
2015 and 2016
2013 and 2014
2011 and 2012
2009 and 2010
2007 and 2008
2004 to 2006
2001 to 2003

Semi-regular news updates which would be of interest to the enthusiast have been provided on this site since 2001. This page contains the updates published in 2019 and 2020 inclusive.

November 2020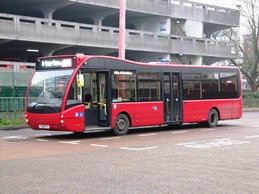 Arriva would seem to be rotating their Mercedes Sprinters around. Noted during the second week of November was 1012 (BF67WGJ) which has replaced 1007 (BF67WGA). It is used on staff ferry duties only.
The three Temsa coaches remain in use on school duties, 2 of which are the 308S and 510S.
First of a kind at Central Connect (which is how we'll now refer to what was Trusybus) on 17th November was Optare Versa YJ12PLF. It's all red with dual doors from its days in London with RAPT (London United/Quality Line) but has LED displays fitted. Similar vehicles YJ12PKX and YJ12PKY have also been purchased and these have appeared in livery, although without fleet names at this stage. These would seem to be in exchange for former Yellow Buses Optare Tempos YJ10MDE and YJ10MDU.
October 2020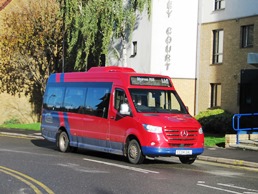 Further to last months reported acquisition of 2 Wrightbus Streetlites by Trustybus, both have now appeared in Central Connect livery with branding for route 386 (Bishops Stortford to Stevenage) and been re-registered. SN64CVR is now CC10BUS whilst SN64CVF is now CC11BUS.

Also in new livery, a Mercedes Sprinter with EVM conversion, acquired a couple of months back as GU19KKE and seen here on Hertford/Ware/Horns Mill local H4 after being re-registered CC04GAL.
September 2020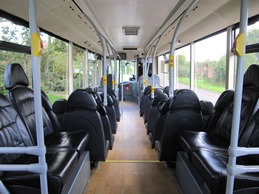 Arriva

The new school term has seen the entry into service of coaches locally. Noted so far are Temsa Safaris YJ69AAO, YJ69AAU and YJ69AAV. Conversely, the Mercedes Tourismo coaches that were scheduled to take up service on the planned 720 service have reported by LOTS as operating in Luton.

Trustybus/Central Connect new vehicle sightings:

Former Yellow Buses Optare Tempo X1200 YJ10MDE and YJ10MDU, both in yellow and with the route branding for Bournemouth routes 6 and 5 respectively. These fit very well alongside the former Epsom Buses vehicles. These really are very well appointed with leather seats and wood-effect flooring (see pictures above).

Another Solo has also arrived. YJ09MHO is an M880 and operating all in red. It originated from Epsom Buses/Quality Line.



Next there are re-registrations continued:



From:
YJ05XNV
YJ55YGN
WX05RRY
YK05CDO
YJ07VPX
Optare Solo M880
Optare Solo M880
Optare Solo M880
Optare Solo M920
Optare Solo M920
To:
RGZ7806
RGZ7807
RGZ7805
RGZ7809
SGZ2219
RGZ7805 has now lost it's green and white with poppies livery in favour of Central Connect red and blue but, like many, is without a fleet-name at present.

Reported acquired are 2 Wrightbus Streetlite DF 10.8m vehicles SN64CVF and SN64CVR, formerly of Tower Transit from London operations where they were dual-door. They have not yet been seen in service but assuming they do, they will become the youngest members of the bus fleet.


August 2020
Trustybus/Central Connect Optare Solo YJ05XOR has appeared in service. It's in livery and one of five (so far, that we know about) that have been re-registered, as follows:


From:
YJ07EGE
Optare Solo M950
To:
SGZ2218
AE06TWN
Optare Solo M850
RGZ7810
SF05NXD
Optare Solo M850
RRZ5463
SF05NXE
Optare Solo M850
RRZ5654
YJ05XOR
Optare Solo M920
RGZ7808

In addition the two remaining '56-registered Scania Omnicitis have also been reregistered:


| | | |
| --- | --- | --- |
| YN56NNE | Scania CN230UB Omniciti | SGZ1087 |
| YN56NNG | Scania CN230UB Omniciti | SGZ1089 |
July 2020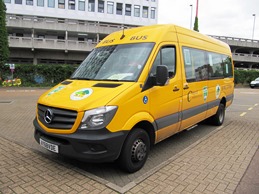 Noted in service with Arriva Harlow, whether loan or transfer Wrightbus Streetlites 4275 (GN14DXT) and 4276 (GN14DXU). More surprising was the sighting of Mercedes-Benz Sprinter 45 1016 (BF67WGO). This is not an example that has worked at Harlow before.

The Ugobus operations of ECC have recently featured 3 previously unreported Mercedes-Benz 514CDi Sprinters. Of these, those registered AY68VDD and AY68VDE are unusual in that the base colour is yellow, which may have something to do with the Chigwell Parish Council logo carried on VDE (at least). Both have been seen on the 392 service. Noteworthy also is that both vehicles carry the Epping Forest Community Transport name, rather than Ugobus. The third vehicle, KE19ZTC, wich has probably been in the fleet for some time, is silver with Ugobus branding.
June 2020
Trustybus/Central Connect have received 2 additional Solos, being WX05RRY (M850) seen in service in the first week of June and YJ05XOR (M920) which is yet to be observed in service. These 15-year old vehicles were supplied by Ensignbus in replacement of 2 Darts SN55HSG and HW54BTZ, of similar vintage.
Network Harlow livery is no more! Arriva's Optare Solo 1454 (YJ06FXT) completed the programme of repaints that was started 5 years ago. To be fair, we have been down to the last one since October 2017.

Arriva buses locally have restricted passenger capacity in their buses as follows:

Optare Solos - 7
Optare Versas - 10
Volvo/Wrights - 11
Wrighbus Streetlites - 11
Mercedes Citaros - 11
Alexander-Dennis Enviros - 11
May 2020
Two formerly Ware-based
Optare Solos seem to have taken up residence at Arriva Harlow, for the time being at least, being 2484 (YK07BEO) and 2485 (YK07BEU). These are M950 variants.

A new-ish but recent new arrival with the ECC Ugobus operation is Mercedes-Benz 514CDi / Sprinter KE19ZSY.
April 2020
Services operating during the Coronavirus outbreak seem to have evolved into a regular pattern, being:
Arriva town services 1, 2/3, 4, 6, 8 and 10 - every hour (every 2 hours evenings and Sundays).
ECC services 5, 14 418B (evenings and Sundays) 505 (Saturdays) operated by Trustybus - normal service.
Arriva 59 - every 2 hours, 7 days per week.
Arriva 86 - not running.
Arriva 87 - hourly service, Monday to Saturday.
Arriva 508/509/510 - hourly service on route 510 only, 7 days per week.
Trustybus 410 - approximately every 2 hours Monday to Saturday (reintroduced from 14 April).
Trustybus 420 - hourly with a few peak extras.
Go-Ahead 575 - running normally.
Arriva Greenline 724 - 8 journeys per day 7 days a week.
Ugo services - reduced services still operating.

The start of new Green Line 720 has been delayed. In an update to the report last month, it is now planned that, assuming the service starts, it will operate from a base near to Stansted Airport and as a consequence the 724 will remain operated by Harlow after all.
The evening and Sunday frequencies are as a result of ECC funding cuts and will remain at these frequencies once normality returns. This renders the town services as essentially being below in any way attractive to fare-paying passengers. Where this leads, we shall have to see.
On the vehicles front, Trustybus have acquired 3 additional Optare Solos. YJ05XNV, YJ55YGN and YJ57EJE are M880 models. The Central Connect branding is now being applied beyond the vehicles intended for the 420 service, despite it being the only route serving the Central Line.
March 2020 (work in progress)
New route 720, Stansted Airport to Liverpool Street, starts on 1st April 2020 and will be operated by Arriva Harlow with a brand new fleet of Temsa Safari HD coaches. An example of these, 7100 (YJ69AAO) from The Shires fleet at Luton has been noted in the garage and on driver familiarisation, as has similar YJ10DVA. At the same time as this starts, route 724 will transfer to Ware, who in turn are losing some HCC tendered work to Trustybus.

With regard to more local operations, Optare Versa 4184 (YJ58VCC) in new light blue, the only one of its type at Harlow to carry this livery, has been noted in service along with 4243 (KX13 DHN). Also seen is former natives Volvo B7RLE / Wright Eclipse Urban 3858 (KE54LPF) and Optare Versa 4198 (YJ58PFY)assumed to be back on loan, along with Optare Solo 2486 (VJ57EJF) and VDL SB200/Wright Pulsar 3751 (YJ08 DZA). All of this is taken to be due to issues with maintaining the home fleet.

First's operations at Harlow have come to an end once again with the last day of their ECC tendered operations on Sundays on route 59 ceasing after 22 March. Alexander Dennis Dart SLF / Pointer 2 42940 (MX56HXZ) performed the honours. Whilst Arriva may have gained the Sunday 59, they have lost the Sunday 418 to Trustybus.

At Trustybus, Optare Solo YJ07VPX has been repainted from Maylands Link Grey to Capital Connect colours. It also Capital Connect logo and so it can probably be assumed that the Trustybus name is no long for this world.

CORONAVIRUS SERVICE REDUCTIONS

23rd March
Arriva town services reduced to hourly during daytimes, 86 not running, 87 unchanged.
Trustybus 410 suspended and 420 reduced to hourly end to end (no 420A).
February 2020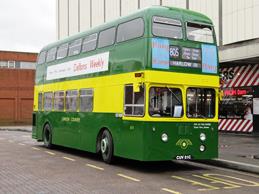 New arrivals at Arriva in Harlow this month are:

DAF SB120/Wright Cadets 3531 (LF02PNL) and, returning after being loaned last year, 4536 (LJ03MYM). The former becomes the oldest operational vehicle in the town.

Also seen operating (from 12th February and for the next couple of weeks), whether or not on loan, is Volvo B7RLE/Wright Eclipse Urban 3826 (GN07AVP).

Noted loitering in the town and in the depot, although not yet certainly in service, is Stevenage's VDL SB200 / Wright Pulsar 3777 (KX09KDN).

Trustybus have been in the news. HCC have announced their tender awards from April 1st and this includes a number of wins for the operator, recorded under the Central Connect name. This includes Hertford locals H1, H3 and H4 and Waltham Cross - Debden 66A (not the main commercial 66).

Presumably in connection with that, a couple of previously stood-down Solos, SF05NXD/E, have been revived. A new joiner adding to the fleet and the first M920 (the others are M850 or M950) is YJ07VPX. This former Arriva vehicle still carries a dedicated livery for Hemel Hempstead local Maylands Link service ML1.

And finally, on 23rd February, a show of preserved vehicles were noted in the area. XF1 never worked on the 805 or in Harlow and the 805 never worked to Tylers Green at all, but looks quite at home in this view nevertheless.



January 2020
Two further Optare Tempos joining the Trustybus fleet are YJ11EHO and YJ11EHW. These examples, unlike earlier 3 acquisitions, carry the Central Connect livery.

A slight misfit seen operating at Arriva, initially without displays programmed, but now a regular and with working display, is Alexander-Dennis Enviro200 4008 (YX61FZN). It has been seen operating recently introduced Bishops Stortford local route 311.

Occasional loan to Harlow, Optare Solo 2485 (YK07BEU) has been observed operating again (31/01/2020).

A new arrival with Essex County Council for their now Ugobus-branded services is Renault Master / Stanford Coachworks HS19YNA. As always, no destination display is carried.
December 2019
A further 2 Optare Tempos have entered service with Trustybus. YJ11EHG and YJ11EHH are from the same batch as the example shown last month and also in all-over red. Most of the remaining small assortment of Darts have now been stood down.

Noted in service with Arriva on 29th was Alexander-Dennis Enviro 200MMC 4113 (SN67WUA). Locally programmed LED displays are carried.
November 2019


A new entry into service is Volvo B7RLE/Wright Eclipse Urban 2 3889 (BG59FWP) from within the local Arriva company fleet. The light blue livery and slightly modified lower front panels (compare with the picture below) do give a more modern appearance.

Also sighted in service, just once so far, Volvo B7RLE/Wright Eclipse Urban 3863 (KE05GOH) of the Arriva Midlands fleet.

At Trustybus something completely different. Former London United Optare Tempo YJ11EHS. It is shown above on town route 5 but has also worked on the 420/420A.


October 2019
At Arriva Optare Versa's 4243 (KX13DHN) was noted in the garage, as was returning Volvo/Wright 3860 (KE54HHF). Both would have nicely fitted in with others from the same batch, but neither would seem to have entered local service. 3860 has gained the new light blue livery whilst away at Stevenage.
September 2019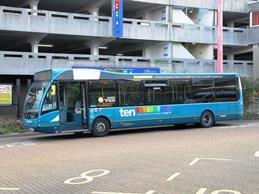 In Arriva news, Volvo/Wrights tend to come and go, but 3824 (GN07AVM) from Stevenage is the only one in the latest light blue, and it seems, this may be an exchange for one of the E200MMCs from the 508/9/10 batch, which has been seen operating in Stevenage and hence may be a temporary loan. Also joining the local fleet, Optare Versa 4191 (KX62JPY) which given that it's complete with branding for Watford local route 10, may also me a loan.
After a short period without operation, Mercedes Sprinter 1010 has again been in regular service. Sister 1015 has not seen further service.
Over at Trustybus, the 10th bus fleet Scania double deck has entered service in the form of YP59OER. Meanwhile YP59OET, which entered service in all-red back in June, is now in Central Connect livery.
A new entry into service with ECC Community Transport is Mercedes-Benz Sprinter 514CDi KE19ZTM. As a "19" reg, this is the newest vehicle to be seen in Harlow. Silver livery with "ugobus" logos is the presentation. As is usual, there are no route or destination displays.
August 2019
Further arrivals into service at Trustybus include another Scania Omniciti double deck, being YP59OEM and bringing the total number in service of the new batch to 9. Additionally, another Optare Solo has arrived. Like the entry in July, it's also logo-less and in the new Central Connect colours. AE06TWN is an M850 model formerly of Stagecoach.
Meanwhile at Arriva, joining the local fleet is rather small and slim Optare Solo M780SE 2482 (YJ07VRF).
July 2019
At Arriva, the 2 former Merseyside Cadets have been numbered. 2554 (DK55FYV) is now 3513 and 2525 (DK55FXL) is now 3512.
The former London United Scania Omnicitis continue to enter service on the 420/420A with Trustybus. Noted during the month are YP59OEN/OEO/OES/OET/OEU/OEV/OEW and OEX. What might seem like more of a standard arrival is Optare Solo M950 YJ07EGE. This, however, is in the same livery as the Central Connect
Scania's, that is to say, without any yellow, so it seems that a general new livery will be sweeping through all the fleet in time. The vehicle also has no fleet name. Another change afoot?
London Hire Mercedes-Benz Sprinter / Mellor Coachcraft DK14AGV has been on the 381 Essex Community Transport service. Presumably it was hired.

Finally, with the summer holidays upon us, there is no sign this year of any seaside extensions to the 575, so this can be considered to have been withdrawn at the end of August 2018. In fact, there is very little mention of the 575 at all from London General. Perhaps it isn't planned to continue for much longer?
June 2019


ECT
have been seen operating brand new smart Mercedes-Benz Sprinter / Mellor Coachcraft Strata LN19TYA on the 381. The livery is silver with dark grey skirt. This addition would seem to have initiated the new "ugobus" brand name and provides links to a suitable website.
LCB Travel have ceased operating again. Last operations were on Thursday 6th June. The word locally is that this time it's for good, which would seem to be correct based on the outcome of a Traffic Commissioners recent decision
.


Trustybus added another former London United Scania Omniciti N230UD to the fleet, appearing on 17 June. YP59OET is still in LT red, including the Buses roundel, but carries a programmed and working orange LED display. It was seen on the 420 service. This was then surpassed on 19th with the appearance of sister YP59OES which appeared with and new modified livery and full branding for Central Connect, the new name for the 420/420A service. A small amount of route branding in included above the upper-deck windows. Notably, the Trustybus logo is not shown at all, so far at least. Friday 28th saw the entry into service of YP59OEV in the same Central Connect colours.

The fleet of Scania N94UB Omnicitis is gradually being withdrawn as the new double-decks enter service. Many other of the old and withdrawn vehicles are also being cleared out.



May 2019
Trustybus have added to their small collection of Mini Pointer Darts. KC03PGU is in service in all white.
Arriva have continued to borrow vehicles to top-up the local fleet from neighbouring Ware depot. VDL SB120/Wright Cadet has seen use on town services of late but seems now to have returned.
April 2019
The LCB Travel recovery continues with the recommencement on 1 April of the LCB2 service alongside the ZIP. The same combination was also noted on 4th April. The LCB1 return then completed the picture, noted operating again on 16 April.

With Arriva, occasional loan from Ware, Optare Solo 2485 (YK07BEU) was noted in service on 9 April. Mercedes Sprinter 1019 has moved on, leaving the other 2. New arrivals are in the form of 2 former Liverpool VDL Bus SB120 / Wrightbus Cadet 2 buses. DK55FYV (3513) in the latest livery and DK55FXL in old standard were first noted on 29 April. These would seem to have replaced the DAF/Cadets mentioned in February and March

An unexpected arrival at Trustybus, former London United SP146 (YP59OEE), a Scania Omnicity N230UD. It is all-red, still with previous operator blinds and
March 2019
LCB Travel

stopped operating

, for a short period of time. N&P's (dated 27 February, objections by 20 March) report that their license was revoked and route registrations cancelled. A short notice in the bus station advised passengers of the change. We suspect this took effect from approximately 8th March.

There was talk locally of them returning, although nothing official on government websites confirmed this. Then on 27 March the ZIP service was noted running again in the hands of regular branded Ford Transit CX60XCW.

At Arriva a third DAF SB120/Wright Cadet has arrived in 3521 (LJ03MYG). Presumably all 3 are for the long term, such as can be expected for 16-year old vehicles at least.

Another "third" is the appearance of Mercedes-Benz Sprinter 45 minibus 1019 (BF67WGV).
February 2019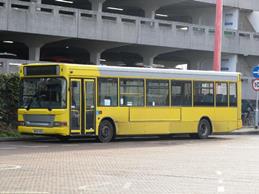 Arriva buses at Harlow are now able to accept contactless payment, first noted from 11 February. By 18 February, the 2 loan buses mentioned last month would seem to have moved on, to be replaced, it seems, by once London Dennis/Alexander Mini Pointer Dart 1594 (LF52UOP) from neighboring Ware depot and DAF120/Wright Cadets 4536 (LJ03MYM) and 3520 (LJ03MZL), both also from within the Arriva Kent Thameside fleet and ex Arriva London South.
Trustybus have also added another Dennis Dart SLF/Alexander Pointer to their fleet. The vehicle in question this time is former Yellow Buses (Bournemouth) SN55HSG, still in yellow, but with a silver front grill, roofline and blind masking which it had, oddly, in its former life. Added to that and even more in a class of it's own, Dennis Dart SLF/East Lancs Mylennium PE55WPP.

At LCB Travel, a new entrant on the town network is Ford Transit HJ60ONA in silver.
January 2019
Essex Community Transport have introduced something new, smaller and probably more suitable to local service recently. Renault Traffic LY15USU is, as usual, in white base with Community Link branding but no route or destination display capability. Another new arrival of a more routine nature is Iveco Daily 45C15 GN59LFZ
A couple of new arrivals at Trustybus, adding to the fleet of Scania CN94UB Omniciti vehicles, are YN04GMV and YN04GMX. Unlike the former London examples, these are in single door configuration. Most striking though are the liveries. The former carries a heritage livery for West Yorkshire from NBC poppy red days, whilst the latter is in white and green Harrogate Bus Company colours. YN04GMV entered service with cherished registration 5480WY, although that was changed in the first week.

At Arriva, a couple of vehicles new in to support the local fleet are Alexander-Dennis Enviro 200 3986 (GN07DLO) and Optare Solo M950 2485 (YK07BEU). Whether these are loans or transfers is not yet known.
Essex County Council have launched a
consultation
indicating reductions in subsidies for evening and Sunday services. The evening routes would effectively cease at 10pm. All Sunday services are shown but the extent of possible withdrawals is unclear.
Please note that this is an unofficial site, and whilst every effort has been made to ensure the information is accurate and up to date, no claims can be entertained for losses caused by any errors or omissions here, or through any shortcomings on the part of the operators themselves. We would be grateful if any errors could be notified to us, in order that we can make a prompt correction. Any suggestions, comments or other forms of feedback are most welcome. This site acknowledges the support provided by local operators, but is not directly linked with any operator.


[Top of Page] | [HarlowRide Main Index]